I'm a big fan of
John Allison's comics
, and he comes up with some fun designs for t-shirts and other products. A while back, he came up with a crochet-genius character, the glamourous Margo Plodz, who
saved the day through quick-thinking and crochet
.
Today I saw the
Knitting is Zen
tote bag, now available from the Scary Go Round store. Awesome.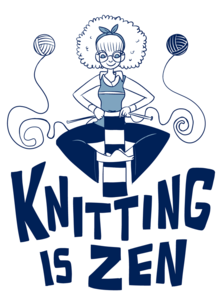 image copyright John Allison
Daisy Wooton from Allison's new mini-comic
Giant Days
is maybe a little less glamourous than Margo Plodz, the world's pre-eminent crocheter, but I suspect she'll kick ass in her own way!