Last night was bonfire night, aka
Guy Fawkes
. Remember remember the 5th of November? Yeah, that 5th of November.
We thought, naively, that it would be fun to watch the fireworks from Arthur's Seat, so we headed out with flashlights, a thermos of tea, and raingear, only to find that Arthur's Seat was completely engulfed in fog. Also it was pouring. We climbed up to he ruins of St. Anthony's Chapel instead, which gave us a good view of the fireworks from the stadium. What I hadn't counted on was a view of little fireworks displays all over the city as well, and even big ones across the Firth of Forth. Pretty cool.
All the pictures I took look like this, even though I rested against a wall.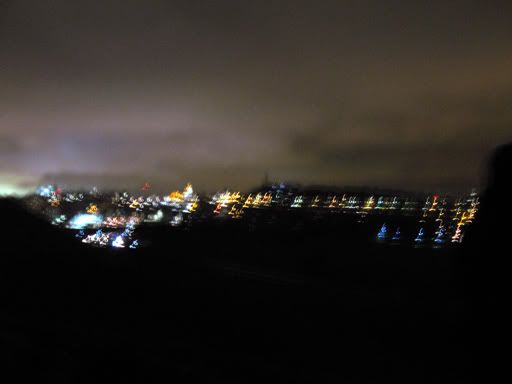 Time to invest in a tripod, methinks!