Perhaps if I had a long commute or had to rely on a car I would have been snowed in today. (Or perhaps if I wasn't used to navigating snow and slush, things that are ubiquitous in Canadian winters). So, I trudged along getting things done today, despite the fact that most of the things I intended to do today had been cancelled because of the snow. I probaby wasn't the only one who perhaps naively thought that the snow would keep people away from the shops, though: John Lewis was as busy as ever.
This weather reminds me of London (Ontario) during the first semester of my MLIS. In London, the sidewalk plowing was woefully inadequate for the amount of snow that fell constantly, and because it wasn't too cold, it all turned to slush rather quickly. There's plenty of slush here now, and I saw a crew of four or five men in fluorescent yellow valiantly shoveling a path along the pavement by hand in an effort to keep up. No little sidewalk snowplows here, I imagine. Poor guys!
If I'd been snowed in, I would have done more knitting, of course. These are on my needles at the moment.
Despite appearances, selbu modern has progressed since my previous
WIP picture.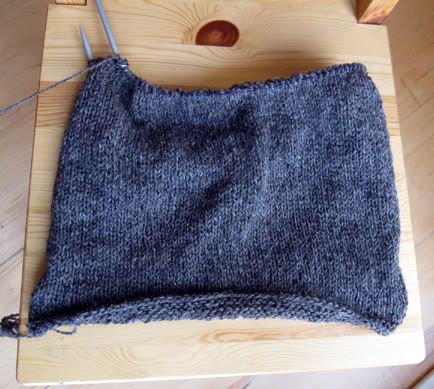 Idlewood has noticeably
more progress
, although I still have 5" to go before I finish the cowl. It feels like I'm knitting a sweater body, since it's so massive! I'm really looking forward to finishing this. Eventually.