Today I'll show off the last of the lovely gifts from Stephcuddles. As so many other participants have already said, this was such fun and I didn't want it to end!
On to the goodies.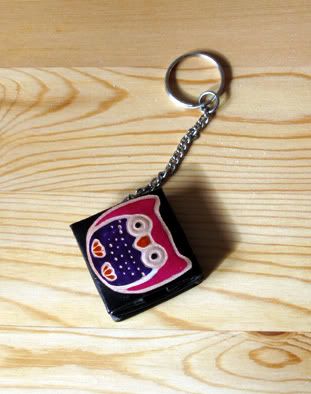 Little owl coin purse, with a lucky penny inside. At least, I'm calling it lucky since I didn't expect to find it there. My love for owls is on trend, but no less diminished by that fact. I'm not often on trend with things. But then,
Everyone is fond of owls
. Hehehehe.
Next, more stitch markers! These ones are shaped like tiny slices of pie and cake. Yum.
I should have expected this, since
Stephcuddles has an etsy shop devoted to handmade stitch markers
. They are so cute. Plus, these ones open for easy removal, which is always handy.
Mmmm cake.
So many new goodies to play with. Ahhh. Thanks again to
Stephcuddles
for the wonderful, thoughtful, and fun goodies, and also thanks to
Eskimimi
for organizing the whole thing.
Edited to Add:
Apparently, I was confused and the pies/cakes are wine charms, not stitch markers! Whoops. Now I look a bit silly. Heh. Is it bad that I had never heard of wine charms before? Clearly don't get out much. At least now I know they can have many possible uses. Thanks for clearing that up!