Enfuriatingly, I still have no internet access at home. I am considering taking matters into my own hands somehow. I'm also still unemployed, but that's to be expected at this point.
But! A friend came up to visit me last week, and she gave me yarn from the Isle of Skye. It was really good to see her, and it was fun to have someone to hang around with now that my boyfriend has started working fulltime. (I will get a job soon, I promise)
Anyway, about the yarn: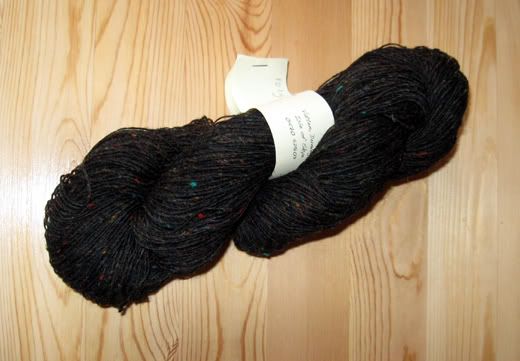 It's greenish-black, tweedy, and wooly. The yarn label says Skye Knyts, but the internet doesn't yield a whole lot of information about this company. Does anyone know anything about them?
Still, very pretty! I don't know what I'll use it for, since it is fingering/sport weight and quite rough - maybe something with a lining. Any suggestions?