First order of business:
Soxonfox
, aka Pip of the
Sock Yarn Shop
has received the package I sent her in the Blog Hub Swap and is
blogging about it here
complete with really great photos. I'll admit I was a bit intimidated when buying yarn for a sock yarn connossieur who sells it for a living! The legendary
K1 Yarns
came to the rescue, since they stock some really beautiful yarns.
Second: I survived 8 hours on the coach to Birmingham, 8 hours following my boyfriend around a bit cluelessly at
UK Games Day
(we both have life-consuming hobbies and obsessions - one day I'll take him along to a knitting festival), and 8 hours on the coach back to Edinburgh. Whoosh.
Third: Swap day 3!
I think Stephcuddles is determined to destroy me with sweets. Heh. (This is clearly not a bad sort of destruction). Day 3's bundle contained one large chocolate bar...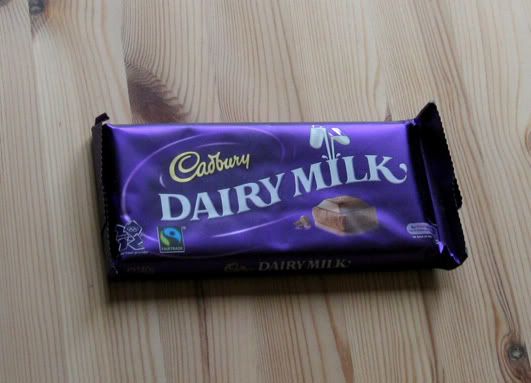 And several teeny tiny ones in the form of cute stitch markers. Aw.
Now little chocolate bars will garnish my knitting. A good combination, I think. Thanks, Stephcuddles!