As it turns out, package #2 is the squishy one, so I didn't have to wait long before encountering exciting new yarn.
Contents:
1 ball of
Zauberball
in the Cranberries colourway. So pretty! And soft. I've wanted to try Zauberball for a while, so this is excellent mind-reading on the part of Stephcuddles. (Or rav-stalking, whatever).
I also received Eskimimi's lovely
Simple City
scarf from Stephcuddles directly in my ravelry inbox yesterday, which calls for one ball of Zauberball... Brilliant. I see where this is going! I actually have a load of Noro Kureyon Sock that might work for this scarf as well, but it's not nearly as soft and neck-friendly as the zauberball. Decisions, decisions. Maybe I'll make it with both!
But there was more: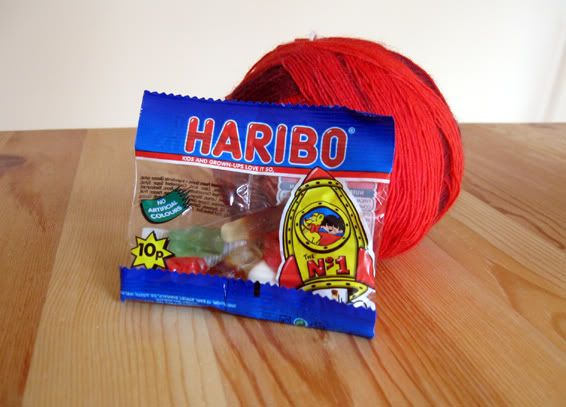 Haribo! Yum. I'm going on a long long long coach ride tonight, so I'll bring this along for when I need a bit of sweetness.
On that note, Day 3 will have to wait until Monday, because I'm spending all night on a coach to Birmingham... And then much of the following day on the coach back, it seems. Quite possibly the longest coach ride of my life so far - we'll see how it goes.