Today has been awesome, especially in terms of mail. This morning, our router came finally, so I am on the internet in our flat for the first time since moving to Edinburgh. Excellent. Then, this afternoon my swap package from
Stephcuddles
arrived! Extra exciting.
I eagerly opened the box to reveal several numbered colourful parcels, and a note from Stephcuddles saying that I could eschew the order and open the squishy one first if I wanted... Heh. Tempting, but I decided to follow the order Stephcuddles has set up.
Package number 1 contained these goodies.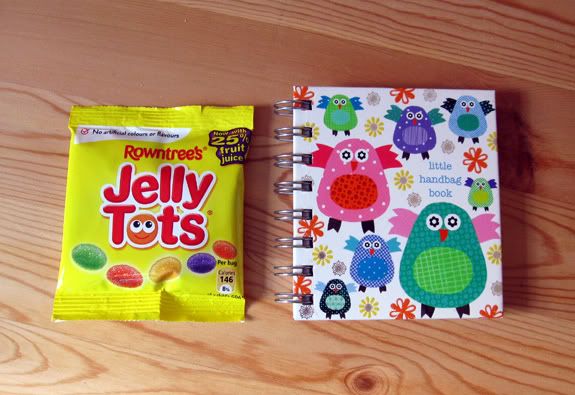 Candy and a fun little notebook! Candy is always welcome. Mmmm. I find blank books very useful, and small ones like this are perfect for carrying around with me everywhere. Unfortunately I have a habit of forgetting to look at the lists I've written... but it's a start, right?
I'm excited to see what number 2 contains tomorrow!
Thanks Stephcuddles! And thanks again to
Eskimimi
for organizing the swap.