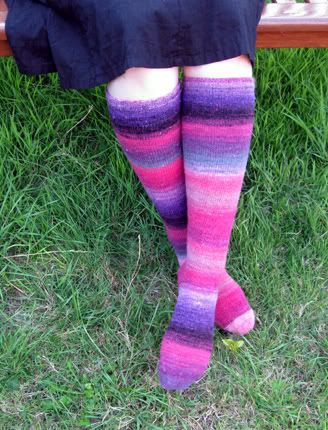 The noro knee-sock saga has come to a close, and it's so exciting.
Pattern:
Delicious Knee Socks
by Laura Chau
Yarn:
Noro Kureyon Sock
Notes:
As
previously noted
, I ran out of yarn 1.5 socks in. The pattern's handy yardage chart is great, but you have to actually use it for it to help you. *headdesk*. I decided to order more yarn after all, and I'm glad I did.
I did not attempt to match the two socks, instead deciding to see where the Noro took me. The tops ended up nearly matching anyway, through no extra calculation of my own.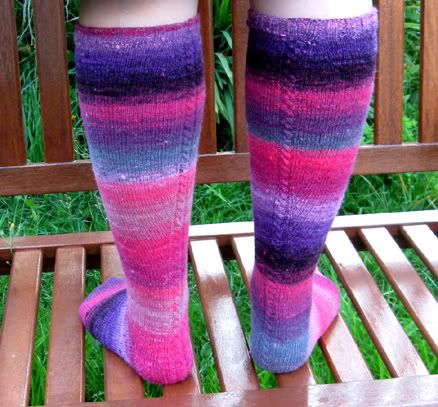 My gauge was much tighter than the pattern required: 32 sts / 3.5 inches rather than 32 sts / 4 inches. Even so, I still ended up going down a sock size, knitting for foot circumference 8 instead of 9 inches. I think if I use this pattern again, I will go up to a 2.25 mm needle, instead of 2.0 mm. The fabric is really dense and warm.
These socks are super fun, but now that I've completed them I can't imagine ever wearing them in public. And yet, they are too fabulous to be hidden under trouser-legs.