I have a long-awaited FO to show-off in the next few days, once I can get some decent photos when it stops raining, but in the meantime, I made bread. It was delicious. I have been baking more bread lately than in my whole life, since bread is something the whole family will eat - my boyfriend's family includes a vegan who eats almost no fat, so cookies are out. In any case, half my attempts at cookies here have been horrible failures. (I blame the oven's mad vendetta against me and the surprisingly lack of baking trays.) My bread attempts have been moderately more successful, but this one is the best-received offering yet.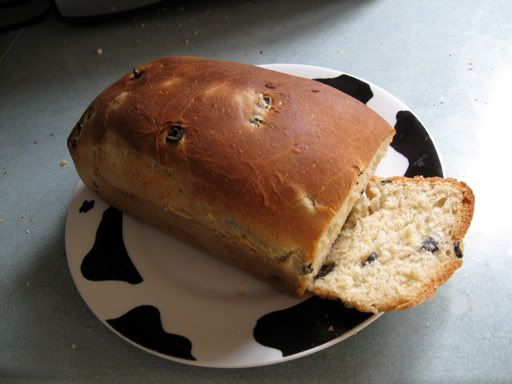 My lacklustre photos on dirty counter top do not do it justice. The thing was devoured in minutes! Or maybe hours, if I'm honest. Luckily, I made the two loaves at once, so there's a whole other loaf hidden away. It will disappear by tonight, though.
I used the recipe for
Sun Dried Tomato and Olive Bread
on the BBC, but left out the sun dried tomatoes. I didn't use as many olives as required, either, but I should have used the full amount. I also used loaf pans instead of making round loaves since there were no flat baking sheets to be found. I also used active dry yeast instead of fresh yeast, using
this conversion chart
. This was my first time baking with a recipe that called for weights as opposed to volumes. I used a kitchen scale and everything! I still have all my North American volume-measured recipes and have meauring devices suitable for those, but I'm excited to venture into these British recipes as well.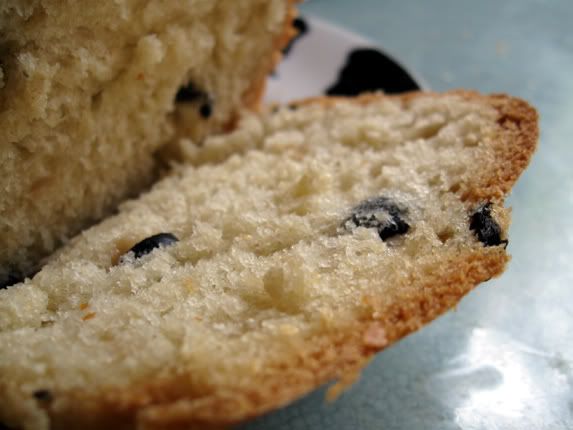 Not going to lie: this is my second attempt at this particular bread. The first attempt looked promising until I cut into the middle and realized the centre of the bread was still doughy, even though the outside was very brown. It never cooked, despite hours and hours more in the oven on low heat. Fail. Reasons for failure are probably two-fold. 1. boyfriend's oven is a temperamental beast that hates me; 2. I tried to make it as one loaf rather than the two called for in the recipe. Bad idea.
Anyway, the second attempt was a resounding success. Fluffy, moist, olive-y, crusty, mmmm.