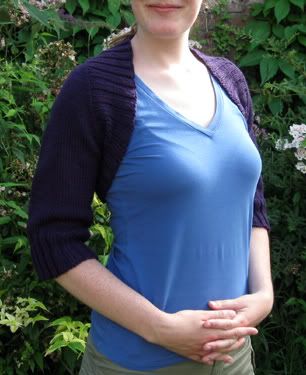 Pattern:
Top-Down Shoulder Warmer
, by Laura Chau
Yarn:
Cascade 220
Mods:
I knit the sleeves in the round instead of flat, since I didn't see the point of doing the seaming. When I knit the sleeves, I thought they were turning out too short, so I did 3 inches of sleeve ribbing instead of 2.
I only knit 3 inches of collar ribbing since I was running out of yarn. Be aware that although the pattern says 430 yards is enough for the 36 size, my 2 skeins of Cascade 220 (440 yards) was just barely enough to knit it with my mods. The shorter collar ribbing works just fine, though.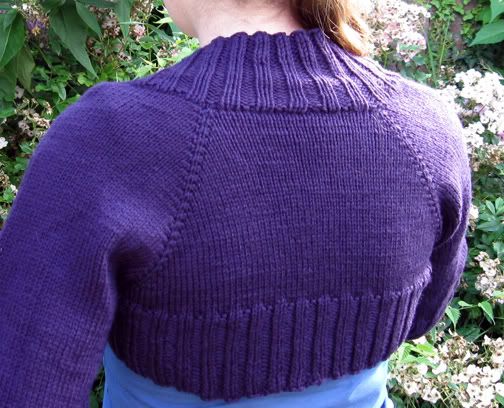 It bunches a little in the back, but I don't really mind. I think that's what raglan increases do naturally.
Notes:
I want one in every colour. I love it. It is so simple and brilliant. This was (gasp) my first project in the ubiquitous Cascade 220, and I thoroughly enjoyed the experience. Maybe I have inexpensive tastes after all? Haha. I will use it again if the opportunity arises. I look forward to seeing how it wears, since it was so cheap.