A final catch-up post before university resumes. I saved the most exciting for last -I finally finished
Vivian
! I sewed the zipper on in 2010, but all the knitting was finished in 2009, so I count this as my last 2009 FO. Please excuse the picspam. I love it so much I can't contain my excitement!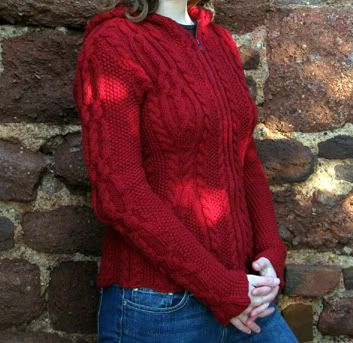 Yarn:
Cascade Eco+
Mods:
Added a full cable repeat on the hood, and it turned out to be a perfect size. I also attempted to shorten the sleeves a little by starting the sleeve on row 7 of the cuff chart. The sleeves still came out quite long, but they are manageable.
Another brilliant Ysolda pattern, although I was inattentive at times, and occasionally couldn't understand the logic of the instructions. This resulted in me unintentionally modifying some bits, or else just misunderstanding, but ultimately it worked out fine. Except don't look too closely at the sleeve joins / yoke decreases, because they are the dog's breakfast. And my hood grafting isn't so great either. Ditto my hand-sewn zipper. But hey. I had reached the point where I needed to finish the sweater at all costs, and any designs on perfection fell away.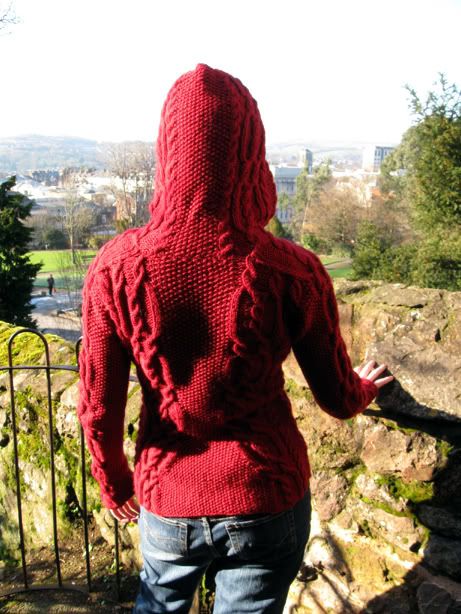 The back is a little rumpled in this photo, but I think that's due to my awkward posture. The sweater was a little small before I blocked it, but now it fits perfectly. This is easily my favourite 2009 FO, and possibly one of my favourites ever! I've been wearing it almost constantly since I finished it, and unfortunately, the yarn is already starting to pill. I hope it will stop that nonsense soon enough, but if not Vivian will just look more lived in a little sooner.