In June I only completed two items from my
list.
Shameful.
33. Read Neal Stephenson's Cryptonomicon (June 2009)
Brilliant. Oh so brilliant, and enjoyable especially after reading The Baroque Cycle last year. I think in the end I loved the Baroque Cycle more, but both are so full, engaging, and well-written.
97. Go to 3 jazz concerts [3/3]
I've been at the Jazz Festival nearly every night for the last week and a half. More on that in another post, perhaps. Good times!
But I got started one another long running one:
30. Read at least 10 works of non-fiction [1/10]
I read
Three Cups of Tea
, by Greg Mortenson and David Oliver Relin. A good read that left me shaking my head at the simultaneous incompetence and brilliance of its subject. What a crazy guy, but hey - crazy people get things done, I guess. Next in this category I'm reading
Jewish Pirates of the Caribbean
; I have high hopes but doubt it will live up to its title. We'll see!
I nearly completed #45. Read
The Brothers Karamazov
. Would you believe that people are requesting this book all over the place meaning that with less than 100 pages to go, I had to return it the other day instead of renewing it? I was shocked to find people requesting Dostoevsky as summer reading, though that's hypocrital of me, since that's exactly what I did. Like the good library student I am, I returned it rather than face a fine and requested it again. Ha. So that'll be a July completion, hopefully.
In other news...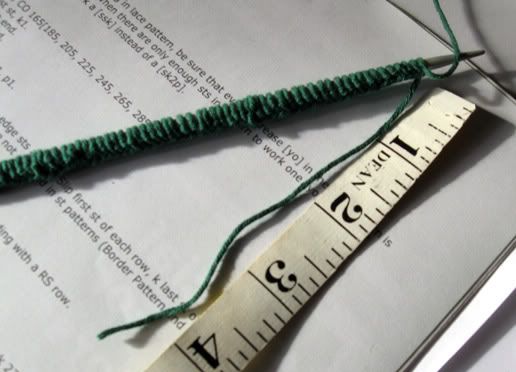 That's the auspicious beginning of
Decimal
. I say "auspicious" because for the first time possibly EVER*, as shown by the photo, I cast on enough stitches without running out of tail! Just barely. If I was smart, I'd measure more vigilantly to avoid having to start over multiple times. But somehow that never occurs to me right when I'm leaping into a project. Weee!
*Okay, probably not the first time ever, but it feels like it.