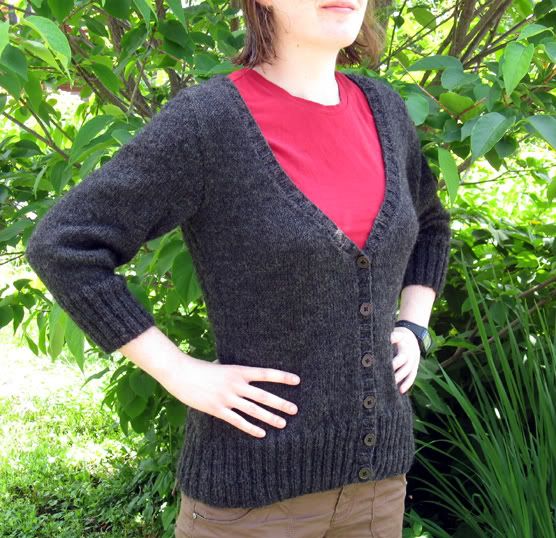 Just in time for Canada Day... (hence the red shirt because I'm so patriotic?)
Basic Black
by
Glenna C.
Yarn
I used some
anonymous German basement yarn
that my mom might have bought before I was born. This was previously a
Gilmore Vest
that I finished last summer, but it didn't fit me properly so I frogged it. It's a blend of wool, alpaca, and something synthetic, and it's very fuzzy: frogging was a slow and painful process, which is part of the reason why this took me 6 months to knit. Unfortunately the yarn is just a tad itchier than I thought...
Firsts:
First set in sleeves! First proper cardigan with seaming and everything!
Notes:
I knit the 35 size and added 1" of stockinette after the ribbing and before the waist shaping as suggested in the pattern, since I have a long torso. It might have been long enough without the addition, but it's cozy as is.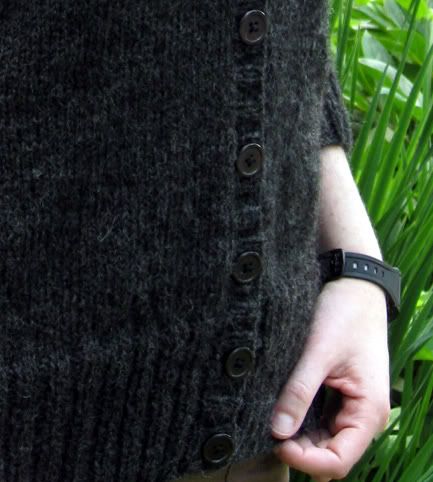 The buttons are plain black plastic ones from the overflowing basement button collection - I'm glad my mom is happy for me to help use her old stash. As a result, this sweater cost me nothing other than time.
The sleeves are a little roomier than I wanted, but they're okay. I should have lengthened the sleeves since I'll likely wear this over long-sleeved shirts in the winter, but I initially thought I wouldn't have enough yarn. Turns out I have some left, but oh well. This will do.
It's finished! Finally! At least I won't be scrambling to find a warm sweater once winter comes. With Ottawa's recent 30-degree weather, it was a struggle to make myself work on it, but I'm glad it's done.