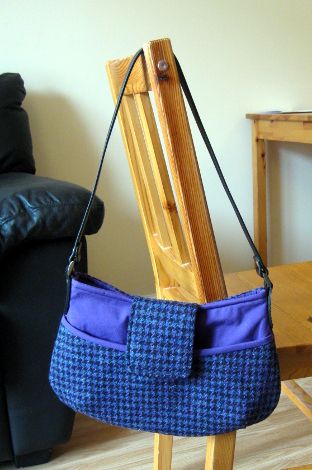 It's finished!
Pattern:
Simply Stylish Handbag
by Lisa Lam
Fabric:
Harris Tweed and quilting cotton
Notes:
This was my most involved sewing project to date. It involved lots of really narrow seam allowances and handling many layers of fabric at the same time. Also a magnetic snap closure, which turns out is actually super fun to install. The pattern was pretty straight forward, but the physical execution of it gave me trouble at times, since I'm not that experienced with sewing. There's one area where the pattern cuts out and misses a step, so I found myself winging it a bit, but it all worked out in the end.
The handle came from U-Handbag, where I bought the pattern. It was surprisingly difficult to sew on, and I made a right mess of it on the inside. If I was more of a perfectionist I would have ripped it out and started over, but I was just anxious to get it finished. And nobody is going to look on the inside of my bag, anyway.
The lining is actually purple, not as blue as it appears, and the tweed is black, purple, and teal.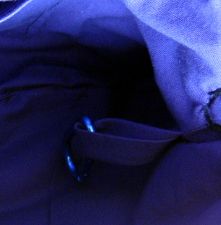 Mods:
I added a fabric loop for keys (as shown above - I neglected to consider the difficulty of photographing the inside of a dark bag, but you get the idea), and an inside pocket (shown below.) I need to get a better carabiner, since the one I used doesn't stay shut.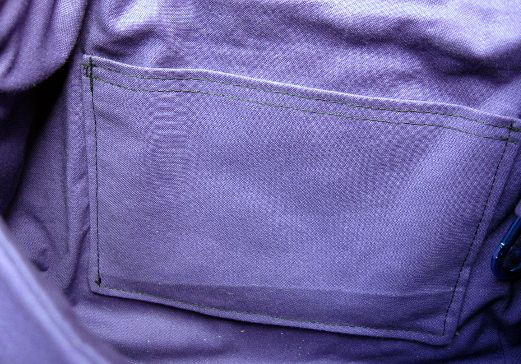 I followed
this tutorial
to add a pocket to the inside, since I don't feel comfortable keeping my phone in the outside pocket.
All in all, I'm very pleased with my bag! I formerly used a bag with a cross-body strap, so using this shorter shoulder strap is taking some getting used to, but the bag is generally the right size for my gear. I won't use it when being a tourist in a very crowded place prone to thieves, since the bag doesn't fully close at the top - the only closure is the small tab across the front that snaps to the body. Maybe for my next bag I'll make something a little less easy to pick-pocket. Still, for every day use it is awesome and I'm proud of myself for making it!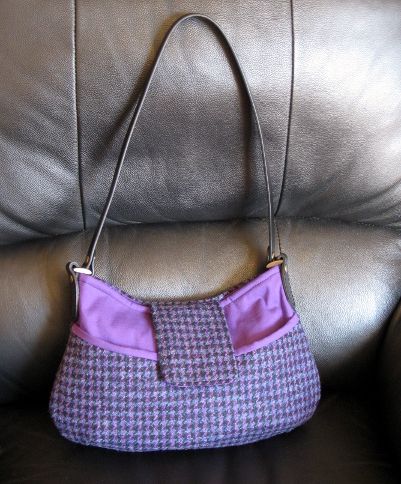 By the way, it's
Fiber Arts Friday
- check out some more fibre-related projects there. (Tweed counts as fibre art, yes?)