I now have in my possession some fabulous (if I do say so myself)
elf-themed socks
. These were not the most enjoyable of projects, and if I made them again I would make some more changes... but I think they were worth it in the end.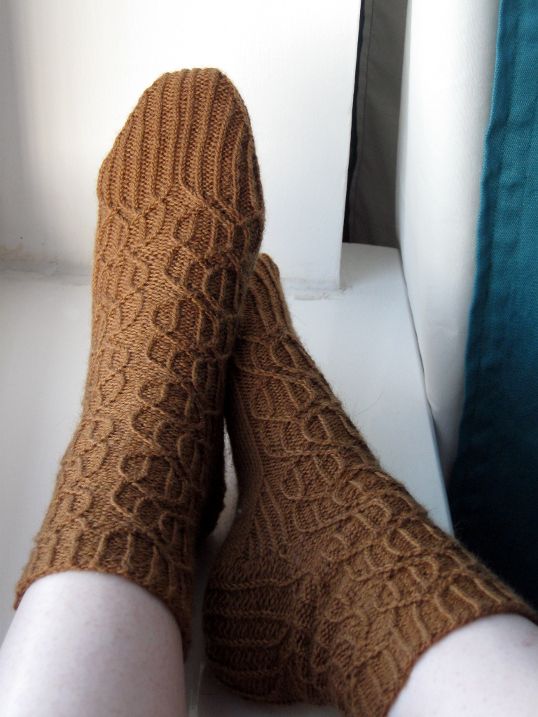 Pattern:
Tauriel by Josiah Bain
Yarn:
75% wool, 25% nylon, my own hand-dyed with tea (see
this post
for details).
Mods:
Shortened the ankle by 1 repeat, change heel to twisted-slip-stitch to keep the flow of the ribbing/cables, kind of ignored the instructions for the toes and partly winged it.
Notes:
Mistake the 1st:
I probably should have made a larger size. I balked at the cast-on stitch counts for the sizes above small; even though I do not have small feet, I rarely if ever need to cast on more than 68 stitches for socks. So, even though in my brain I knew I was a medium, I cast on for the small. As a result, the cables are stretched to maximum. Luckily, they are super-stretchy since it is basically ribbing with some cabley twists thrown in. The socks fit and are pretty comfy nonetheless, but I think they would look better a little less stretched. Oh well. Should have trusted the pattern.
Mistake the 2nd:
I shouldn't have shortened the ankles - these turned out slightly shorter than I normally like my woolly socks. Oh well. Still fine.
Mistake the 3rd:
I misjudged how long the toes would be. The pattern says to begin the toe shaping on one of several cable pattern rounds, and if the socks aren't long enough by then, to do ribbing until it gets to that point. I think mine look out of proportion because of where I started the ribbing. I probably could have gotten away with continuing the cables for longer and then doing a more rapid set of toe decreases. Never mind.
Despite these frustrating details, I do like the socks and will wear them a lot - none of these things are bad enough to make me want to frog and start over. Definitely in the Good Enough category of FOs. I'm excited to have finally used my tea-dyed yarn, and look forward to seeing how it holds up to washing.
For those keeping track, this skein was part of my
Sock Yarn Stash Match
category. 3 more skeins to go!
And finally - anyone else heading to the
Edinburgh Yarn Festival
this weekend? I am so excited and will post a (probably incoherent, babbling) recap of events afterwards. If you see me, say hello! (I'll probably have a ravelry badge labeled Notpanicking. And probably my
Colour Affection
. And will be ogling the Old Maiden Aunt yarn stall, among others!)