I'm not the first to do a stripy Noro scarf, and probably not the last. The ubiquity of this scarf suggests that sometimes simple is best. I am kind of addicted to watching the colours change, so it will probably be finished soon.
I started out using
Brooklyn Tweed's recipe
, but it was turning out too wide, so I ripped it out and started again with 29 stitches instead of 39. I only have 3 skeins of Noro, so hopefully the reduction in CO stitches will yield a long enough scarf.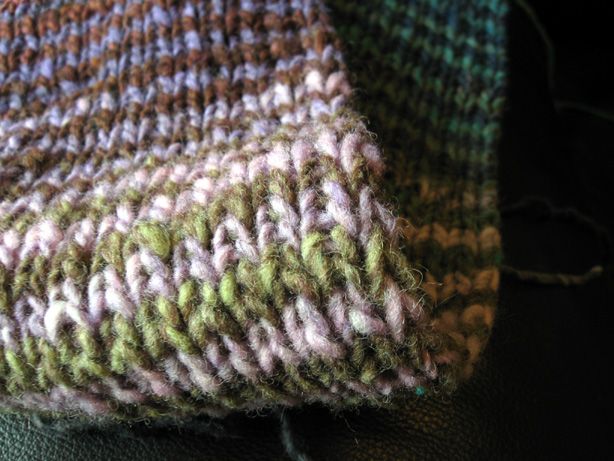 I had two skeins of similar but different bluey-green-purple Noro Kureyon that I bought on impulse years ago, and I've added the spring-coloured Noro I got for Christmas. It has worked out really well so far, since the Christmas yarn has lots of light colour - it contrasts really well with the deeper / darker shades in the other skeins. I have done some strategic cutting in places when things got a little muddy and low-contrast, but mostly I'm letting it do what it will.
Noro divides opinions. I love it, but I wouldn't use it for many types of projects; however, it really lives up to its potential in simple things like this.