My Pomatomus socks are finally finished!
They have been on the needles since April last year, and I'm so pleased to be done with them. I love them. They are my most impressive socks - as in, the ones I'm most impressed with myself for knitting.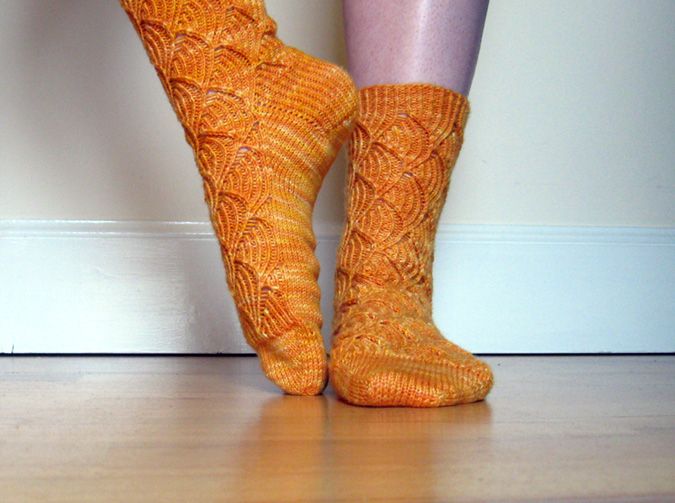 The pattern, of course, is
Pomatomus
by Cookie A. The yarn is Project B from the now-defunct Ariadne Knits in Montreal. It's 80% wool, 20% nylon, and rather smooshy. I bought it on a visit soon before moving to Edinburgh, and it was one of the lucky stashed items that made it into my one suitcase. The colour is golden yellow-orange and fabulous. (And more luminous than my camera could handle). In the skein it shone like its own light source even buried in my stash box. Heh.
As for the pattern, it's not that difficult. It just takes persistence. They took me so long to complete because of the concentration required. Whenever I thought I had internalised the pattern enough to be able to read my knitting, I'd mess it up. I learned that I had to keep a careful eye on the chart at all times, and that really slowed me down. I also put the knitting aside for long stretches while I worked on other more immediately satisfying things.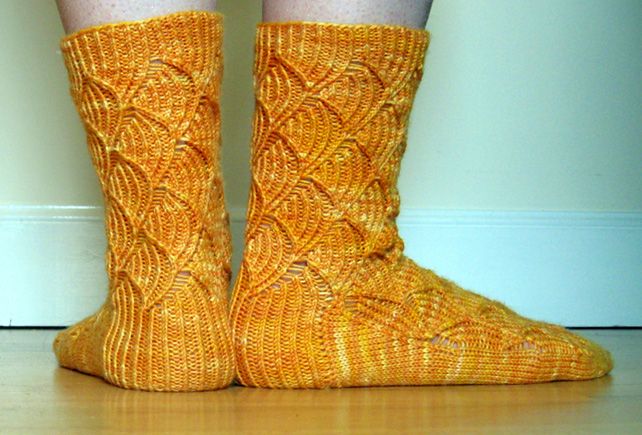 But I do love them now that they are finished. The yarn and pattern are a perfect match - if I could only knit with semi-solids I'd been a contented knitter. The only real mod I made was to end the toes and graft them together having only decreased to 20 stitches, rather than 12. They would have been far too pointy for my feet otherwise.
Finishing these is extremely satisfying. Now I can start something new, guilt-free!