My
Devon
socks are my first FO of 2012, given that I almost finished them in 2011. Since they are socks, and they are the first FO of the new year, I've been calling them my
first-footers
. Not sure what sort of luck they'll bring - maybe a year full of socks?
The light in my flat was terrible today when I was attempting pictures, so these are the best I got. The socks fit, though!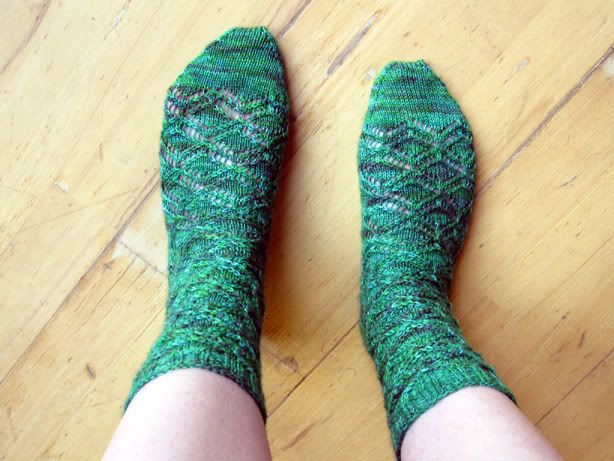 Something weird is happening with the perspective here - my left foot isn't really massively larger than my right...
I used hand-dyed yarn blogged about
here
. I love the colours, but I do think it is just a teeny bit too busy. If I'd somehow managed to make the blackish parts less intense/contrast-y, I think the pattern would show up better.
The pattern is Cookie A's
Devon
. It was an enjoyable knit, even though I did them one at a time; I'd forgotten how quickly one sock can go! I'm not too keen on the way the yarnovers show on the foot section, but disappear into the leg section. To be honest, I'd prefer them to disappear in both, like the original pattern photos. I can only assume the model has skinnier feet than I, so hers don't stretch the yarnovers much. If I made these again, I might try using some hole-less increases instead of yarnovers to see how that looks.
Here's to more woolly socks this year! (And more FOs at
Tami's blog
.)