I've always had trouble photographing greens with my camera. You may remember my frustration with everything green looking teal on my screen (not that I don't love teal, when the knitted project is ACTUALLY teal...) At some point I learned that setting white balance might help with this. I didn't know how to do that with my camera and then forgot to figure it out.
Until a few days ago, when I was messing around and stumbled upon it completely by accident.
Here is the first of my lumpy, unblocked Devon socks, by Cookie A, looking kind of colour accurate. At least, they look accurate on my monitor. Your mileage may vary. How is it different from before? I think it looks a lot less blue than my original picture of the yarn, even with all the attempted colour correction in photoshop: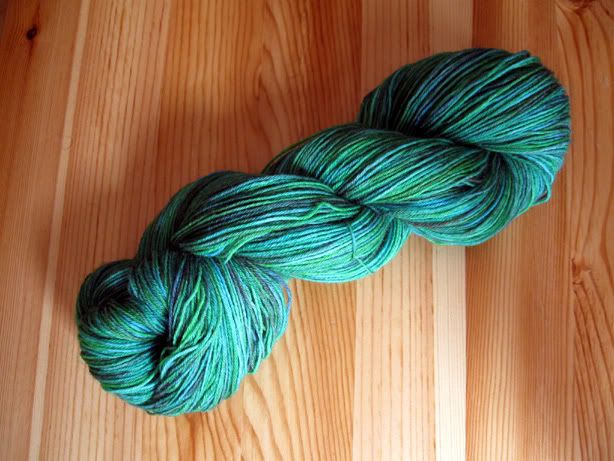 The yarn, with no white balance adjustment: most of the yellower greens don't show up. Also the light is shining on the yarn in an annoying way, but never mind.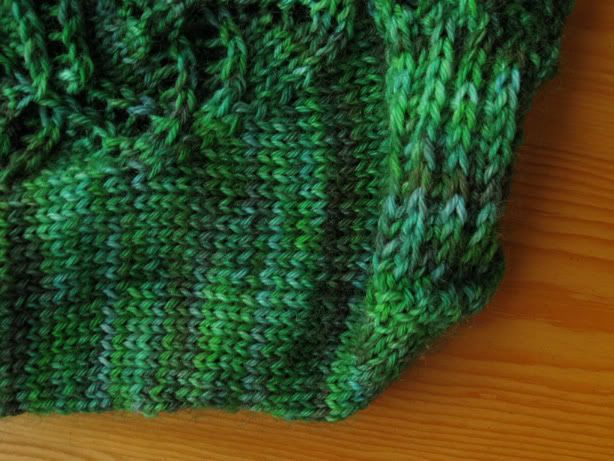 Anyway, this is pretty exciting. It may not solve all my colour problems, but I'm glad I figured it out, and I feel a little dumb for not knowing about this feature on my camera, even though I've had it for a few years. I have a Canon Powershot A590IS - if you do too, like me have lost the instruction manual, and are looking for the white balance, it's available when you set the camera to manual (M on the wheel at the top). The second icon down the lefthand side of the display, underneath ISO, gives you various options including "custom," which lets you set the white balance. Hurray!
The first sock went pretty quickly, and I made sure to cast-on for the second straight away to impede second-sock-syndrom. Better (blocked/modeled) photos to follow when I get this one done!