The other day I made
Orange Gingersnaps
. After finding this recipe on Pinterest ages ago, I'm glad I finally tried it. I shoved nearly 2/3 of the batch in the freezer afterwards so I could make them last longer. Mmmm. I love the way orange and ginger combine.
Generally, I fall back on blobby oatmeal raisin cookies when I want to bake. They are delicious also. But these... these are even pretty, if I do say so myself! (And if I can make these look pretty, so can anyone.)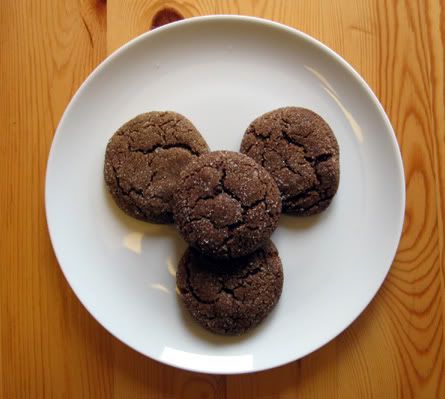 I mostly followed the recipe (shocking), but predictably made some changes. Instead of using shortening I used half butter, half vegetable oil. I didn't use as much molasses, since I've found that treacle available in the UK is much stronger than the molasses I always used in North America. I learned this the hard way making gingerbread one year - the stuff turned out black. I only used about a tablespoon this time, which was plenty.
Technically, I shouldn't call these gingerSNAPS since most of them don't really snap. Other than the last baking sheet full which I cooked a little longer, they ended up quite chewy. I did this on purpose, and I'm glad it worked, since chewy ginger cookies are awesome. They work well as crunchy cookies, though, if that's your thing.
Next time I make them, I'll use less sugar and maybe less butter in the oil-to-butter ratio, although I suspect that will make them tend towards crunchy rather than chewy.