I have a
new cardigan
at last.
Pattern:
Honeybee Cardigan
by Laura Chau
Yarn:
Regia Color 4-ply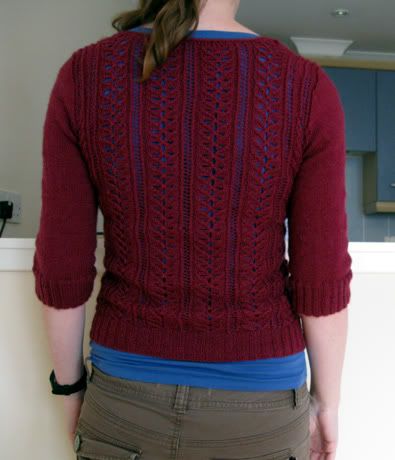 Notes:
This project was full of firsts for me, which is great since I've fallen into comfortable knitting and don't often try new crazy things.
First time doing lace worked on both sides
The lace pattern was tricky at first. Not only are there no resting purl rows, but there is also madness involving dropping multiple yarnovers... Laura Chau provides excellent instructions for the crazy parts - including photos. Although I never thought I would, I eventually memorized the lace pattern, and it was smooth knitting from there. Awesome.
First time doing seamless set-in sleeves
This was relatively painless, and I can see why everyone's doing these. I don't know how these ones compare to others as they are written, but I really like how they fit. The only thing that's kind of weird is how to reconcile the lace pattern with decreases. In the first half of the sleeve decreases part of the pattern, Laura Chau dictates exactly what to do step by step for every size, which probably took a lot of work. It was my impression that later on the instructions got less clear and occasionally misleading - I think I got lured into a false sense of unthinking security before. Whatever, it worked out.
First time doing i-cord bind-off
I-cord bind-off is brilliant. It finishes the neckband / collar so beautifully. I love it. Except it takes FOREVER. I spent almost an entire evening at knitting group binding off the thing! Anyway, it looks great, and I'd do it again with the foreknowledge that it won't be quick.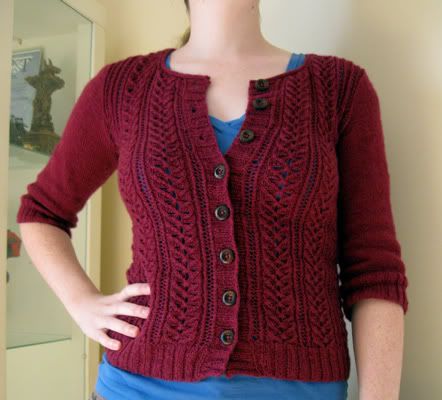 The cardigan turned out a little short. I have a long torso, so I always add length to my sweaters, and I'm almost positive I did for this one as well.... but it's possible I didn't. The body section spent a little time sitting in a pile at home while I worked on the sleeves, since they are more portable; maybe I forgot to add length and assumed I had finished the body completely since I had started the sleeves? I don't know. It sounds like something I would do. Anyway, it's a bit short, but having worn it around for a few days I don't really mind it. It'd be good with dresses, I think. Maybe I should get some dresses. Ha.
Also, the raspberry colour was a bit of a wildcard. I haven't worn magenta since I was 7, or maybe before that. I abandoned pink early on and never looked back, to be honest. I bought the yarn super cheap on sale and couldn't resist, despite the colour. (And it is pink, despite what your monitor/the photos may show. Not purple. Not red. Dark magenta pink.) And you know what? I kind of like it. My usual problem with pink is that my face is already super pink most of the time - I don't need to look any pinker! As you may be able to tell, all these photos were taken with self-timer, the camera resting on a pile of miscellaneous household objects to achieve height.... and I couldn't get any with my face in them, so you'll just have to take my word for it. I guess the raspberry colour is dark enough that it doesn't make me look extra pink.
So. Now that I have this lacey cardigan, I want a whole lot more light weight lacey sweaters. Most of my sweaters are DK or Aran weight, so I think having a few in fingering weight would be really useful for layering purposes. I know I'll wear this a lot. The trouble is, making a fingering weight sweater takes me ages - I started this one in April - but I think if I'm more focused I could cut down the time. (I also spent a little time avoiding this one, if I'm honest.)