I bought yarn for my wedding shawl and it arrived yesterday. In fact, I bought a wedding dress a few weeks ago, but more on the dress when it gets here in a few months. (Hint - it's not white/ivory). Choosing the dress precipitated the mad yarn fancying. As if I needed to spend more time ogling pretty yarns.
I chose undyed
Fyberspates Scrumptious Lace
. I've wanted to try Fyberspates yarn for a while now, and this seemed like a good opportunity. (Fyberspates has such gorgeous colours that I felt a bit silly ordering undyed yarn on this occasion, but there will be more yarn-buying opportunities.) Scrumptious is 45% silk and 55% merino - soft and lustrous, and slightly fancier than the average yarn, in my opinion. I have to say, it's not as soft as I expected it to be in the skein - I think when I heard 45% silk my brain shut off in expectation of something impossibly luxurious. Reality doesn't compare. Nonetheless, it's gorgeous yarn and I'm looking forward to knitting it up.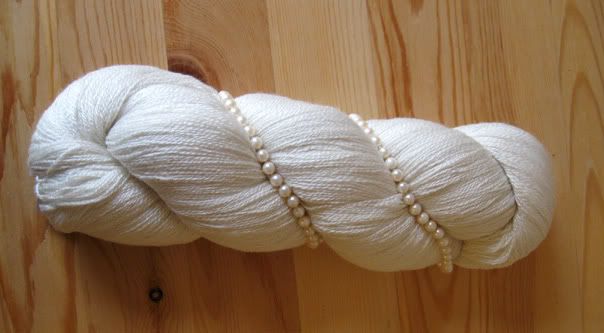 It goes nicely with my pearls, too. Bonus.
I haven't chosen a pattern yet. As you may recall, I have a lengthy list of possibilities picked out, but wanted to defer decision until after I got a dress. Now that I've picked a dress, I have to re-evaluate. I didn't realise this until afterwards, but it turns out that I was considering my original list of shawls in light of a coloured shawl. Not sure why, since I was never set on getting a white dress, but I had this picture in my mind of a white dress and coloured shawl. Now that I've chosen a non-white dress and decided to do a whiteish shawl, I'm having a hard time imagining those other shawls on me in white. (Even though others have knitted them in white and posted pictures.) I guess I have some sort of mental block about it. Also, I picked a lot of less traditional, more edgy looking shawls in the first round, and now I'm inexplicably drawn towards some more leafy/floral patterns such as the
Raspberry Dream Stole
or even
Spring Leaves
. I don't know. Anyway, I've opened up the shawl queue again. I'm hoping that having the yarn in hand will inspire me towards a decision soon so I can get to it!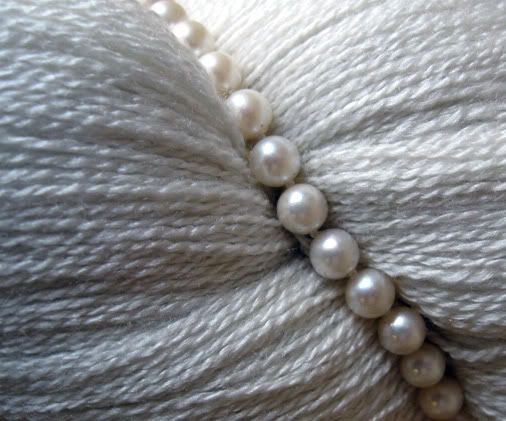 One more pic of the pretty. :)