It's still light out at dinner time, which I love. So, I took some pictures of my dinner.
Noodles with Ginger-Garlic Peanut Sauce, Chickpeas, and Peppers
Serves one.
Pasta or noodle equivalent of your choice (I used penne)
Half a can of chick peas, rinsed and drained
Bell peppers or other vegetable (I used half a red pepper, and a quarter yellow one.)
1 clove of garlic, minced
1 smallish chunk of ginger, minced*
1 heaping teaspoon of peanut butter
1 tablespoon sesame oil
splort of soy sauce
pinch of ground cayenne
pinch of ground cumin
boiling water
Cook your pasta/noodle equivalent. While it is cooking, combine garlic, ginger, sesame oil, peanut butter, soy sauce, and spices in a bowl. Mix until even, adding boiling water to get desired consistency.
Drain noodles. Add chickpeas and chopped peppers. Drizzle sauce over, and stir to coat everything.
Eat!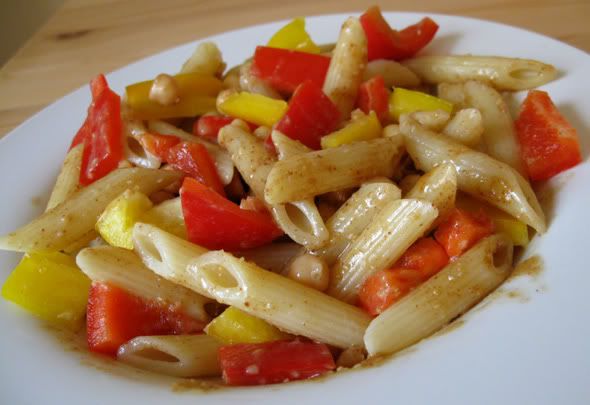 Bonus: this is vegan, assuming your pasta/noodles aren't made with eggs.
Next time, I'll add some lime juice to the sauce. My glass citrus-juicer thing shattered (as glass does when you drop heavy things on it), and I haven't replaced it, so my lemon and lime usage is way down these days.
*How does one accurately measure the amount of ginger? My ginger chunk was probably about 1.5 cm square. Er cubed?