I've become a bit of a homebody lately, and my unemployment has encouraged some bad habits. I find it all too easy to slip into a hermit-like existence, especially when life is being discouraging. My typical days consist of sleeping in longer than I should, reading, knitting, fooling around on the internet, housework stuff, job applications, drinking tea, and eating - not necessarily in that order. I go out in order to run, get groceries, distribute CVs, go to the library, and do volunteer work, but I don't seem to do much wandering around town these days. When I do wander, I usually discover things I haven't noticed before.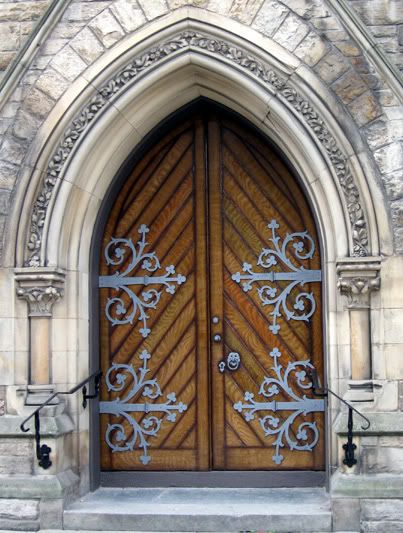 Awesome doors I've passed many times, but never really focused on until yesterday
This week there's some construction happening outside that involves drilling, machines, and pounding crap into the ground from 8:30 am until past 5:30 pm. I don't know what they are doing, but the constant almost-rhythmic thumping sets my teeth on edge and makes it difficult to concentrate. It's driving me mad. I feel like an Edgar Allan Poe character. At least it gets me out of bed early and makes me anxious to get the hell out of the flat and far away from the din.
It's good to get out more. I might as well... I have plenty of time to waste - better to wander around outside than spend it looking at photos of people I don't care about on facebook. I know hiding from the world won't get me anywhere, but sometimes it takes horribly noisy builders to drive me outside and remember that.