I went diving in my mom's yarn stash when I was home, and came up with some neat stuff. My mom isn't really a Knitter with a capital K (though she did teach me to knit back in the day), but she still has a stash, and lucky for me she is very generous with it.
I walked away with some weird sock yarn.
Gedifra Fashion Trend Sportivo
is apparently discontinued, and although I wasn't too keen on the colours of these skeins, I can always use sock yarn.
Thinking this would be a fantastic candidate for overdyeing, I attempted my first hand dyeing since moving to Edinburgh, using some Leaf Green Wiltons icing colour.
It turned green, as hoped, but I'm not sure this counts as a success for a few reasons. First, I had a hard to getting the dye to set and I have lingering fears it might just all wash out later. Secondly, the yarn was really loosely plied to begin with and seems to have unevenly unplied itself in the dye pot. It almost looked like a bouclé yarn when I took it out, so I'm not sure what happened. I tried weighting the skeins when I hung them to dry and that helped a bit, but I'm not really sure how it will knit up. Good thing I'm not heavily invested in this yarn. Has this happened to anyone, and how did you deal with it?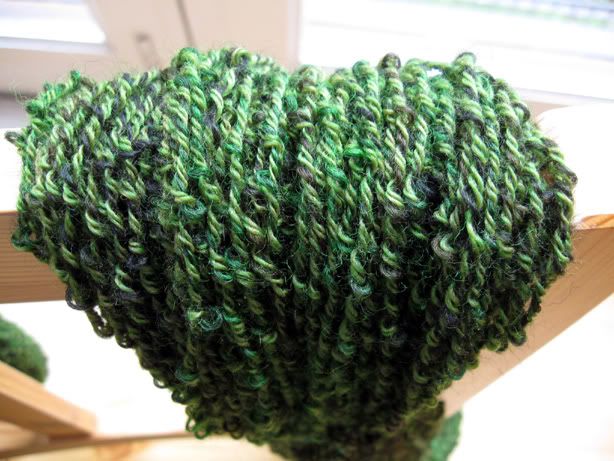 So. A fun experiment that wasn't altogether a success or failure. I want to do some more dyeing soon, but I'll need a bigger pot and I may invest in some citric acid. (I say this every time since I hate the smell of vinegar, but I never get around to it.)