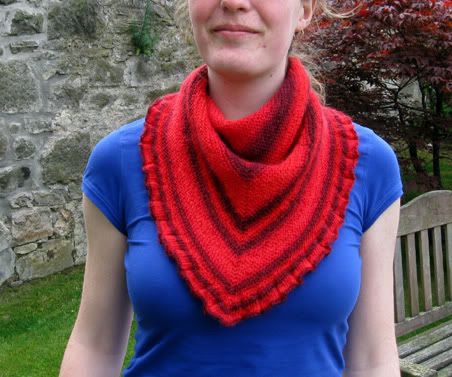 Pattern:
Simple City
by Eskimimi
Yarn:
Zauberball
in "Cranberries", from
Stephcuddles
Mods:
Almost nothing. I moved the KFB increases on the ruffle edges in one stitch because I didn't like how they looked when done at the very edge. This is practically inconsequential, though.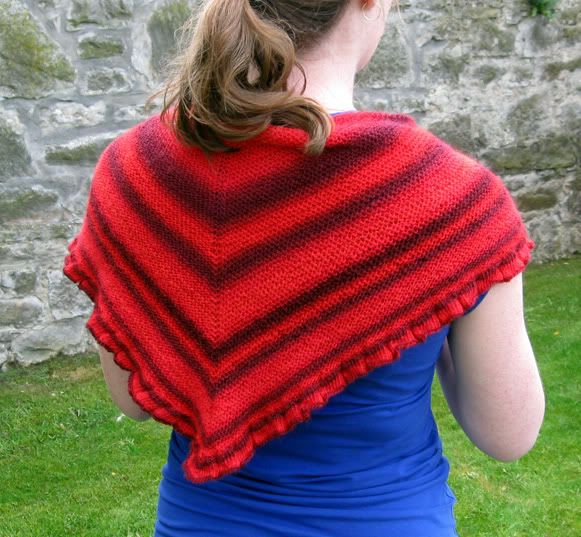 Notes:
Appropriately, this was a simple project. The ruffle nearly drove me crazy and has made me wonder if attempting a Citron would send me over the edge entirely. Haha. Ten rows never took so long until I tried ruffles! Still, I love the result. The Zauberball is gorgeous, although it is a brighter red than I usually go for. Watching the stripes develop was super fun. I love how the bind-off row ended up being darker most of the way around.
The pattern isn't written with a garter tab cast-on, so if I make it again I'll probably add one. Doesn't really bother me, given how I'll wear it, but the top edge of the shawl has a bit of an indentation.
The finished shawl has a wingspan of about 1 m, and it wraps cozily around my neck bandit-style!
See more FOs at Tami's Amis