My
green mitts
are complete, in time to be seasonally inappropriate.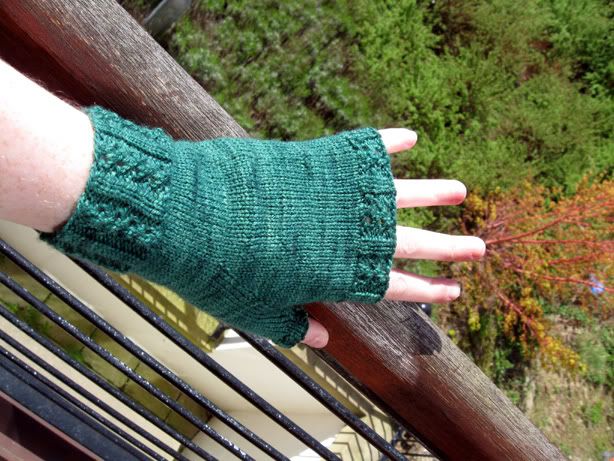 Pattern:
Calculation
by Natalie Selles
Yarn:
Sweet Paprika Messa di Voce
Notes:
Those of you reading along may remember I only had 42 g of this yarn left, so I was worried about running out. I needn't have worried. Upon finishing, there were 11 g left. Plenty! (What did I do before I had a digital scale?) In fact, next time I would keep knitting for longer lace cuffs in order to use up even more of the yarn. This pattern is great for partial skeins and small amounts of yarn.
It's way too warm for mitts surprisingly, but I'll keep them on hand for the next coldness. Up until now the only mitts I had with me were my pink
Endpaper Mitts
. I'm fairly relaxed about being non-matchy, but nothing else I have is pink, whereas I have a lot of greens/blues/purples. These are in the same yarn as my
Herbivore
scarf, and I suspect they will be very useful if I decide I want to start being matchy.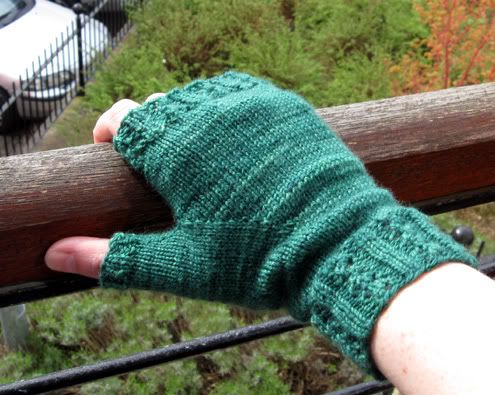 I'm done apologizing for how inaccurate the colour is, but just another reminder - the mitts aren't actually teal. As much as I love teal and wouldn't mind if they were, of course.