The
first pair of socks I ever knit
was for my mom, and pretty much ever since I've been thinking of making her another pair. The first ones were not superwash, and you can guess the outcome of that misguided yarn choice. (Though even slightly felted they were still wearable, my mom claims.)
I hope this second pair fares better.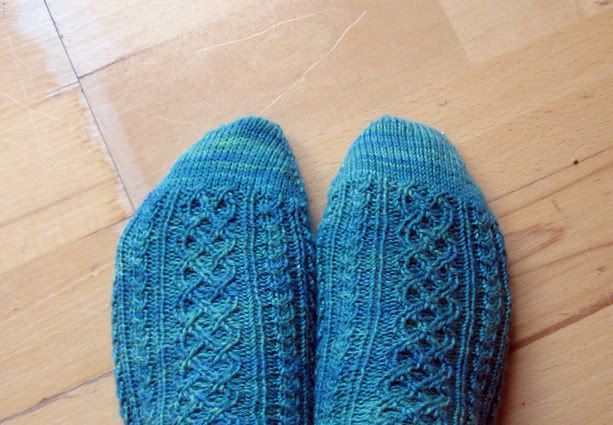 Pattern:
Bavarian Rockstar
by Diana Gates
Yarn:
Tanis Fiber Arts Blue Label
in the "mallard" colourway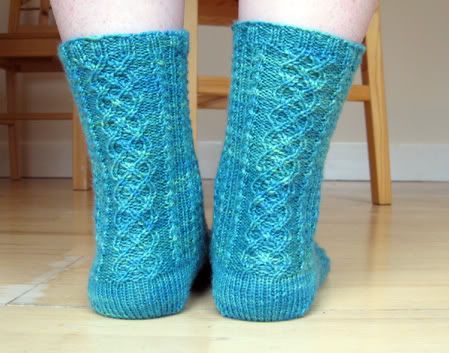 Mods:
I knit these two-at-a-time, using Judy's Magic Cast-on for the toes, rather than doing a short-row toe as written. I also manipulated the charts a little - this might have been a bad idea. I thought it would be easier to do them two-at-a-time if the front halves and back halves were exactly the same, so I set out to knit it like that. Then I realized that this would put cables right next to each other in a silly way, so I fudged it to have enough ribbing/purls between those cables... And ultimately made things more difficult for myself. It all worked out in the end.
I'm pleased with these to a certain extent, but I think the little braided cables get lost in the yarn. In addition, I think I should have done the main cable pattern in twisted stitches because my knit stitches look a bit exploded. Small quibbles - they're good enough really. This was my first time using TFA yarn, and I loved the experience, so next time I'm in Canada I'll try to find some more.
The above photos show the socks on my feet, but the photo shows the recipient's feet.