More manly socks. You'd be forgiven for thinking I've posted the same boring gray socks twice in a row. In fact, these are a different pattern and yarn from the last - I couldn't face making two identical pairs of boring socks! Hehe. (Boring in a nice way, of course).
Pattern:
Globe Trotter Socks
by Jodie St. Clair
Yarn:
Regia Solid 4-ply
Notes:
I enjoyed knitting the seed-stitch rib pattern. The fact that there are two rows to the pattern, rather than the same thing every row, added some interest.
I made the 70-stitch size. Just a note if you're thinking of making this size: I don't think you can do a slip-stitch heel on an odd number of stitches, but the pattern specifies 35 stitches for the flap. (Or can you? Am I being dumb?) Anyway, it wasn't working for me - constantly slipping an already-slipped stitch at the beginning of the row wouldn't have worked out for long. After doing a few rows and getting a bit confused, I decreased to 34 stitches for the heel flap and it worked fine.
These were the last gift I made for Christmas, and I almost didn't make them. But my fiancé kept saying "Oooh, I like socks!" while watching me knit the socks for my dad, so I thought he'd appreciate them. It's difficult to knit a secret project when spending most hours of the day with the recipient, however; when he got off work for the holidays I had to be creative about hiding away and knitting for a few minutes at a time... I finally finished the socks on Dec 23rd - not bad timing, if I do say so myself.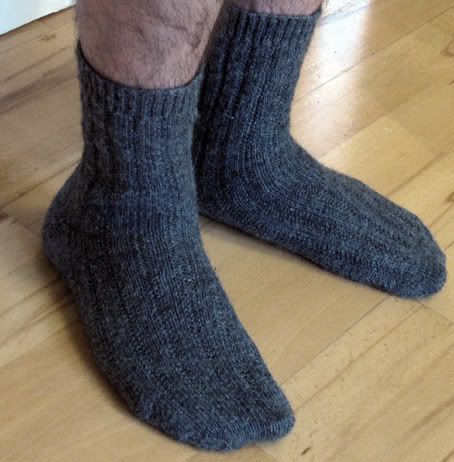 we don't actually have a dramatic sloping floor in the flat
Sadly, they are a bit short. He doesn't seem to mind, but next time I'll make the foot longer. I offered to unravel the toes and add a little more length, but he got all protective and said I couldn't take them away! A good sign?
See more Friday FOs at Tami's Amis