I looked in my sweater drawer and realized with shock that I no longer possess any pullovers. How strange. I left a few behind when I moved, and I haven't missed them until now. Maybe it isn't that strange; I am a big fan of cardigans, and I find them much more versatile than pullovers. (Though I still plan to make more pullovers in future!)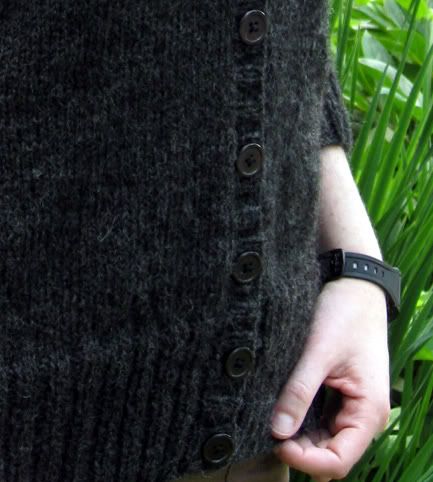 The issue at hand today is my standard go-to cardigan,
Basic Black
by Glenna C.
I finished this in July 2009. It was my most standard, useful cardigan, and I've worn it a lot. Surprisingly, the yarn hasn't pilled at all. Alas, I have to relegate this cardigan to the bottom of the drawer. The neckline is sagging terribly and falls off my shoulders, and it's generally shapeless and unflattering. It is no longer suitable for wear outside the house. Too bad! To be honest, it never fit as well as it should have: the waist-shaping was a bit wonky, the seams were badly executed in spots, and the sleeves were an awkward length - too long to be 3/4 sleeves, but too short to be long sleeves. But it was super useful and warm and wonderful, so I want to replace it with something equally versatile and simple.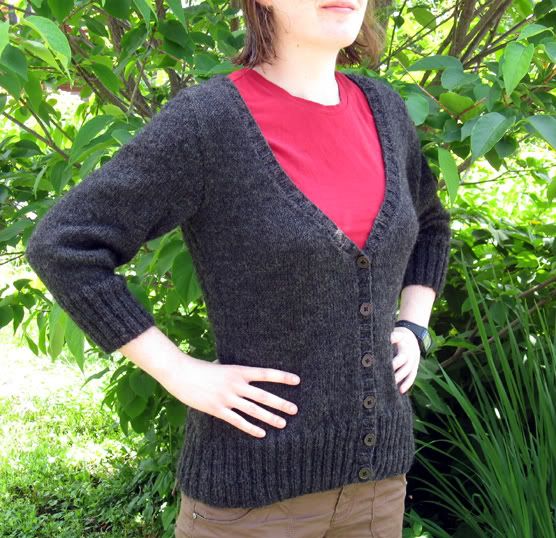 Since I love cardigans, I have many in my queue already, but I have specific criteria for this cardigan.
1. Worsted or Aran weight yarn
2. Buttons all the way down, or modifiable to do so
3. Fitted, with waist shaping, or at least easy enough to add waist shaping
4. Simple, not too many cables or lace or whatever, but not TOO boring.
5. Full-length, not cropped
6. Readily available, i.e. online
Here's the shortlist:
1.
Amelia
by Laura Chau
2.
Garter Yoke Cardigan
by Melissa LaBarre
3.
Monday Morning Cardigan
by Laura Chau
4.
Emerald Isle Cardigan
by Melissa Wehrle
I'm leaning towards Amelia, because I love twisted stitches, and many people have modified it to button all the way down with great success.
What do you think? Any suggestions?