I never thought I'd become a sock knitter, but here I am: proud owner of several pairs of handknit wool socks with many more queued up for eventual knitting. Although I come from a cold place where wool socks are useful, I've found that I'm wearing my wool socks more frequently since moving to Edinburgh. This is partly because I get to pay for my heating now and the flat, though modern, isn't very well-insulated; but probably more significantly, I have more handknit socks now than before, so of course I wear them more often. 2010 was the year of sock knitting for me - I knit 3 pairs for myself, bringing my handknit sock collection up to 4 pairs. That doesn't sound like much, but technically it's a 300% increase. (Is it? I'm math-dumb.)
Here is the round-up.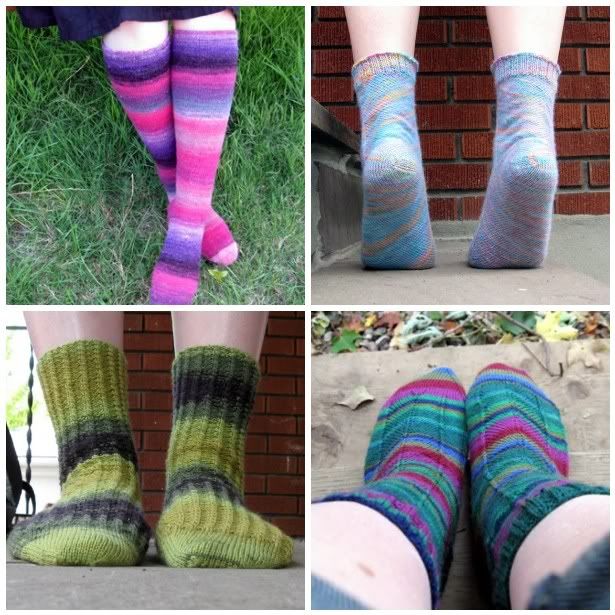 (made with the
BigHugeLabs mosaic maker
)
Clockwise from top left:
Delicious knee socks
,
Skew
,
Jaywalkers
, and
Sugar Maple
Skew are a bit too tight and the yarn is turning to fuzz and fading fast: I dyed some cheap-as-hell sock yarn with Easter Egg dyes, so I only have myself to blame.
The jaywalkers and the knee socks are both fine, and I like them, but as it turns out, the Sugar Maple socks are my favourites. From 2-at-a-time Socks by Melissa Morgan-Oakes, these are the most comfortable and I want to wear them all the time. I'm surprised that I like them so much, given that I didn't particularly like the yarn while knitting, and I'm not a fan of the dye-job. I said I wouldn't use this yarn again. But they are so soft, and yet they are holding up pretty well despite frequent washings/wearings. I like when knits defy my expectations.
Do you have favourite socks?