As I mentioned in my last post, I recently spent a day out hiking on Dartmoor. Hiking, or walking as they tend to say here, is pretty much the only athletic activity I feel any good at. During the time I spent in Devon a few years ago, I took advantage of the proximity to beautiful hills, tors, and moors: I joined a walking society and went hiking most weekends. My boyfriend and I met on one of those walks, and the rest is... geography? Har har. In any case, we both like to walk, and this is a great place to do it. We set out for a final walking daytrip before moving to Scotland.
We started out in Okehampton, followed a proper trail for a way, and then struck out onto the moors to clamber up and down some
tors
.
For a while, all the views were like this. Nice. Luckily the weather is very changeable. Over the course of a short walk between tors, we might lose sight of our goal completely, even if it was less than 100 metres away. And then it would reappear. And maybe disappear again in the fog.
Blunt enough.
We wandered into the danger zone which covers a large portion of Dartmoor, but there were no military exercises going on. Remnants of past military activity cropped up every so often in the form of shell casings and rusted bits of metal, but nothing big and scary.
It's hard to capture the extremeness of the landscape in a little rectangle. The scrabble, gorse, and tumbled rocks give the whole place a bleak look in the fog and rain, but shine out starkly in the sun. Groomed fields contrast the wildness on all sides of them. On occasions when the fog did lift, the views from the top of the hills and tors were startling and beautiful.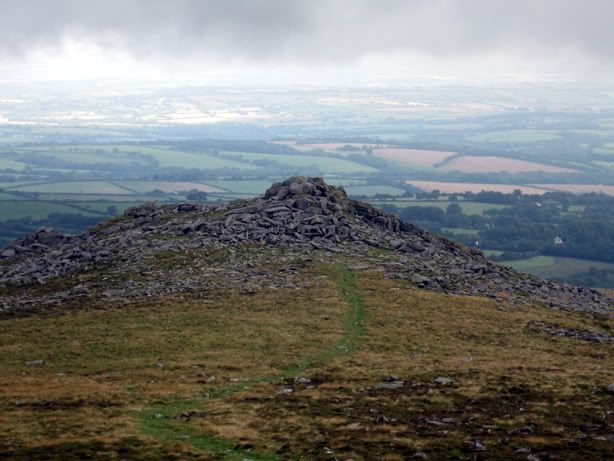 And yet, it all looks so piddly when I try to take photos of it.
And of course there were lots of sheep about. These rams looked like they were having some sort of meeting. A Conference of Rams. New collective noun?
This is my last post before moving to Edinburgh - lots to be done around here, and I'm not sure when I'll next have a reliable internet connection. Exciting times, though! See you soon, blogosphere.