Knitting away on
Skew
the other day, I noticed that my stitch markers match my unicorn-barf yarn. This is an accident: the only stitch markers I own in this particular style happen to be pastel orange and pastel green, two colours that feature prominently in my easter egg yarn. Win / Fail? It amuses me, in any case.
Skew is progressing really quickly! I've grafted the heel since taking these photos, and I'm starting to figure out how this is eventually going to be sock-shaped. Awesome! Possibly I need to get out more? Heh.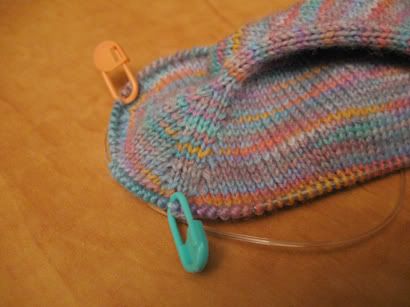 I think it looks kind of like a weird fish creature from this angle.