I've been sort of quiet about my noro knee socks these last few months, but it's time to come clean.
(some day I'll remember to clean the porch before I do a photoshoot)
I have very little yarn left, but only 1.5 socks. How did I let it come to this? Bad planning and a series of oversights. I should have known better. Don't be like me: here's what I did wrong.
1. Trusted others without thinking
Ravelry is brilliant, and I get a lot of useful information from other knitters' project notes. This time, however, I neglected to consider the differences between my circumstances and those of other ravelers who made the same socks using only one skein of Noro Kureyon Sock. Namely, I have average-to-large sized feet, and large calves. As such, I require bigger socks, and making bigger socks requires more yarn. There is a detailed yardage calculation section in the pattern, but because I assumed I would have enough yarn, I didn't even bother doing the calculations until it was too late. Dumb. Won't happen again.
2. Did not pay much attention to gauge.
When I started the first sock, I did take note of the fact that my gauge was much tighter than called for in the pattern, but since things were othewise working out, I didn't do anything with this knowledge. Tighter gauge = more stitches required. More stitches = more yarn.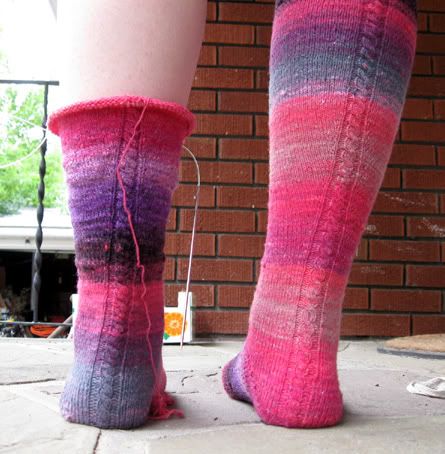 3. Unfailing optimism / denial
So deep was my trust in those ravelers who have come before that I didn't even start thinking something was amiss until I was well into the second sock. At first, I thought I would only come up a little short, and so I could unravel the top of the first sock to make the two even. Alas, my optimism turned to despair when I finally realized I wouldn't have nearly enough.
4. Unwillingness to frog
I am not a committed frogger. Sometimes frogging is necessary, and I fear that is the case with this project, but I usually try to find a way around it. When I make mistakes in my knitting, I usually just live with the mistakes. I am not a perfectionist. In this case, I kept going, even when I started to have my doubts...
I guess I have a few options.
-rip back the first sock so it matches the second.
-buy more yarn and finish the socks
-frog the whole thing and make something else
-frog the whole thing, buy something to stripe the noro with, make striped knee socks
To be honest, I'm sick of looking at this project, so it's hibernating. I'm seriously considering buying more yarn since I like how the first sock turned out, but I don't know what I'd do with the leftovers. What do you think?