First, a weekly word. Then some rambles about blogging. Then some yarn. Excited?
Octothorpe
the symbol #
~
Merriam Webster
Much cooler to say "octothorpe" than "pound sign" or "hash key," in my opinion.
In other news, I will be participating in
Knitting and Crochet Blog Week
next week.
I'm a pretty quiet blogger, and I don't really feel like part of any "blogging community" - I read lots of blogs, and I comment occasionally, but I'm mostly a lurker. I'm looking forward to finding new and fun knit/crochet blogs over the course of the week (because I clearly need to follow more blogs! Haha).
Anyway, I think the exercise will be interesting. Unlike November blog posting month, this one has daily suggested topics. So you won't be getting any random stressed out rambles. At least, that's not the plan.
By the way, I'm finished graduate school. So that crazy stress? Should be lifting any day now... Stress has become habitual.
I promised yarn, so here we go: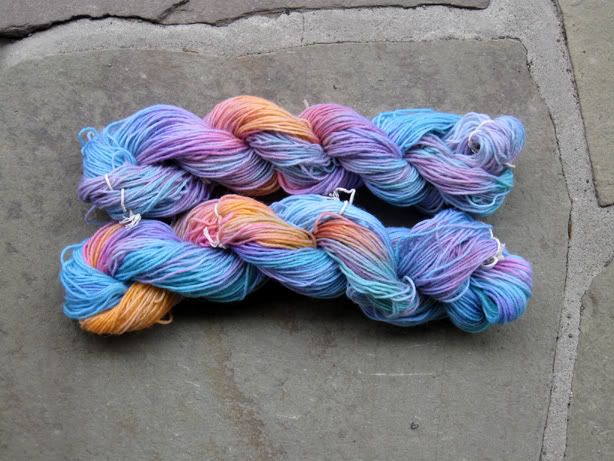 This is Elann Sock It To Me 4-Ply - the last two skeins of the batch I ordered. I used PAAS Easter egg dyes (50% off, hurray), and I'm surprised yet pleased at the results.
I followed
this tutorial
, except instead of steaming the yarn to set the colour, I used the microwave.
It has been awhile since I dyed Easter eggs, so I had forgotten that dye tablets don't resemble the colours they produce. Hurray! Experiments with no idea how it will turn out! I'm pretty happy with it, and it reminds me a bit of rainbow sherbet. Mmmm childhood.