Today is the first day of
Knitting and Crochet Blog Week.
For today's topic, "Starting Out," I found some objects associated with my knitting past to illustrate my reminiscences.
I've written about my knitterly beginnings on this blog a bit before, but chances are nobody has read that old post, so I'll reprise it here. Apologies if this seems like repetitive navel-gazing; this is a blog, after all!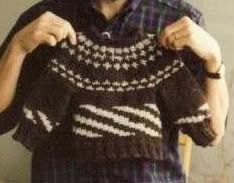 baby sweater inspired by Knitting Without Tears, by Elizabeth Zimmermann

Knitting happened sporadically in my family growing up. My grandmother knit all the grandchildren intarsia animal sweaters - I remember giraffes, lions, and dinosaurs in sturdy acrylic. My dad even knit me the above sweater from
Knitting Without Tears
when I was a baby, although that may have been the first and last thing he knit.
My mom is primarily a sewer, but she is also a process-knitter, and she was the one who taught me to knit when I was a child. I can't remember whether I approached her with the request, or whether she offered to teach me, but I was probably 8 or 9 when I first learned. Then I forgot. Then she taught me again. Then I forgot. Then she taught me again. At some point it stuck. Conveniently, I've just moved back home, so I had a hunt for evidence of early knitting, and found a few things.
In between the learning and forgetting, I knit swatches from variegated acrylic yarn, almost exclusively. (Hello Red Heart!) That one could produce finished objects with a use or a purpose never seems to have occurred to me in my early knitting days. I was content to swatch away. I remember experimenting with beads, creating knitted pouches beaded on in inside: treasure pouches! I couldn't find any of these pouches, but I did find an early swatch that served as a doll blanket, pictured above.
My dad built me a knitting spool from a dowel with some nails with which I happily produced a family of snakes. No snakes remain, but I still have the spool:
One Chanukah, when I was 9 or 10 I received
Sunny's Mittens, by Robin Hansen
. This is a picture book about a girl learning to knit her own Lovikka mittens, including instructions for felted mittens from lopi yarn. This book eventually lead to my first proper FO, and I must have realized that knitting could be useful. It took me a few years of knitting on and off to finish them, and I grew out of the resulting mittens pretty quickly once they were finished.
But I made them, and I was pretty excited about that.
I dabbled in crochet in grade 7 and 8 after our Family Studies teacher taught the class to crochet, with the aim of producing an afghan for a homeless shelter. A friend of mine made some money crocheting squares for some recalcitrant boys who considered crocheting a threat to their 12-year-old masculinity, but were still required to hand in a square. I enthusiastically crocheted a lopsided rectangle for the cause, and went on to experiment. My favourite FO was a purse that I made without a pattern: it was sort of orange-y brown and cylindrical, and I was totally in love with it. Unfortunately, my locker got broken into in my the first week of high school, and it was stolen. I was heartbroken, and I basically haven't crocheted since. Haha. I'm not sure the two are directly connected, but hey. That's how I remember it.
Here's a weird crocheted pillbox hat thing from that era.
After that, I didn't knit much until university. I got back into knitting with Debbie Stoller's
Stitch and Bitch
, and got back into it in a huge way once
Ravelry
came along as an enabling tool for all things yarny. The rest is history!
knitcroblo1