I'm back in London after a fun few days in Ottawa. The break was too short, of course, but I had fun and got to catch up with a few people I hadn't seen in a while.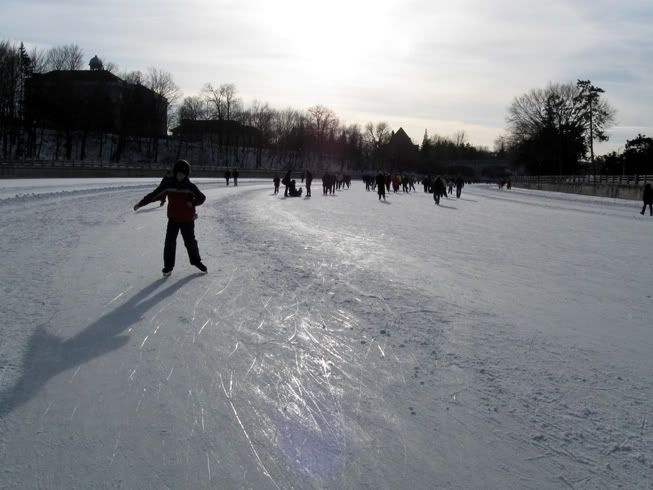 Fun things included skating the length of the canal twice in one afternoon. It was warm, but the ice wasn't soft yet. There were lots of people out, since it was "Family Day" on Monday, but the ice was much better than I expected it to be.
Skating is my favourite athletic activity, and for a long time it was the only one I felt like I was any good at. I miss having an outdoor skating space nearby now that I'm in London. I'll miss it more once I go to England, but maybe I can schedule my vacations in February.
I also went to see
Basia Bulat
in concert. My only experience with her prior to the show was on youtube, but it was lots of fun seeing her live! She has a great voice, so I was disappointed to find that she tends to swallow it sometimes. I think this is a stylistic choice, but I wish she'd sing out instead! Anyway, it was a fun gig despite my annoyance at that part - I love how she played ukelele, autoharp, piano, and guitar. So cool. A while back I shared her song
"In the Night,"
but here's another fun one.
And it's time for a word:
Incunabula
the early stages of the development of something; in particular, early printed books, especially those printed before 1501 . The word comes from Latin, meaning literally 'swaddling clothes'.
~Oxford Dictionary of Phrase and Fable
Appropriate, since I spent Wednesday pretending to do research in an archives. I'm pretty sure there are no true incunabula among the corporate and historical files in the municipal archives, but I did find some really old library cards.