I mused about putting on every item I'd knit in 2008 simultaneously for a silly photo, but time slipped away and now I'm in London without a camera (gasp! but what's a blog without copious photos!), and anyway some of the things I knit were gifts, so I no longer have them. So, a bit late, and a bit overdone, but here is a compilation of what I knit in 2008.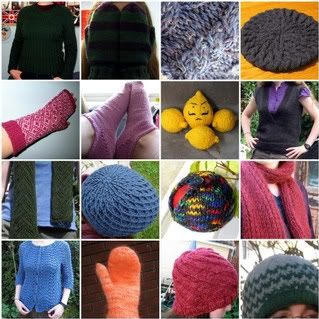 My first sweater (
Cozy V-Neck Pullover
by Stefanie Japel), my first colourwork (
Endpaper mitts
by Eunny Jang), first serious cables (
Gretel
by Ysolda Teague), and my first lace (
Tiger Eyes lace scarf
by Toni Maddox). Among other things. I think it is safe to say I did more knitting this year than in my whole life, and I certainly tried things I hadn't done before. Success?
This year I want to do more of the above: more cables, more lace, more colourwork... I don't have any specific goals, but I want to challenge myself further (blah blah blah). I also want to make more socks out of real sock yarn, since as of yet my sock experiences have been fun but slightly silly in their non-superwash glory. Hurray!