This has been the summer of swaps. In addition to the sock/shawl swap, I also took part in a more standard gift swap. I sent fun things to someone, and a third person sent fun things to me - it was the standard secret kind of swap where nobody knew who would be sending them stuff. As it turns out, Erin sent me a delightful package of wonderfulness. It's fun to get post!
Local was the theme of this package. Erin lives in NYC and is originally from Savannah - so she packed it full of things from both places.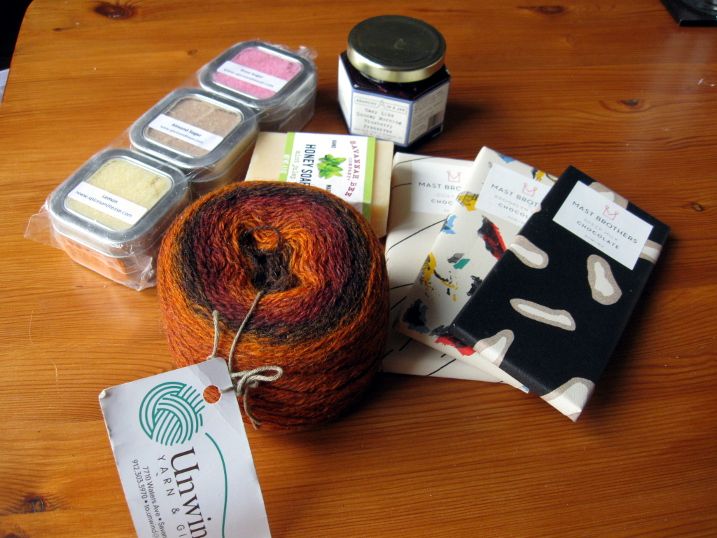 Let's talk about that gradient. It's handspun and it is rustic and beautiful. I can't decide what to make with it - maybe the
Moab Shawl by Verybusymonkey
, or something similar.
Also included in the package were fancy flavoured sugars, exciting chocolate (goat, sheep AND cow milk varieties), honey soap, and blueberry jam. Particularly of note is the jam, produced by
Anarchy in a Jar
. Here's something you might not know about me: for the last 13 years (apparently), whenever I talk / think about jam
this old Weebl and Bob video
comes to mind. (Now you know!) Anyway, this anarchic jam is only going to reinforce the association I have between jam and revolt. (Plus it is delicious.)
Thanks, Erin! I'm truly spoiled.