Oh HAI blogosphere. I've been crafting, just not keeping up with pictures and writing about it. Never mind. I wanted to show off something I made a little while ago that is yarn-related, but not made of yarn.
I took a pottery class for 6 weeks ending last month, and it was incredibly fun. In my youth I did pottery for a few years at the local community centre, and I loved it - so when I found out there was a class on in my neighbourhood I was excited to try it again. And I still love it, and I'm anxious for the next session to start up! I kind of love the unpredictability of it - I'm sure some people plan well and create things according to their plans, but I found it kind of freeing not to. Especially with glazing - it was kind of fun not knowing exactly how the glazes would interact with each other and how it would all turn out. I made a bunch of things, including some wonky wheel-thrown bowls, and a few flower pots, but the thing I'm most proud of is my yarn bowl.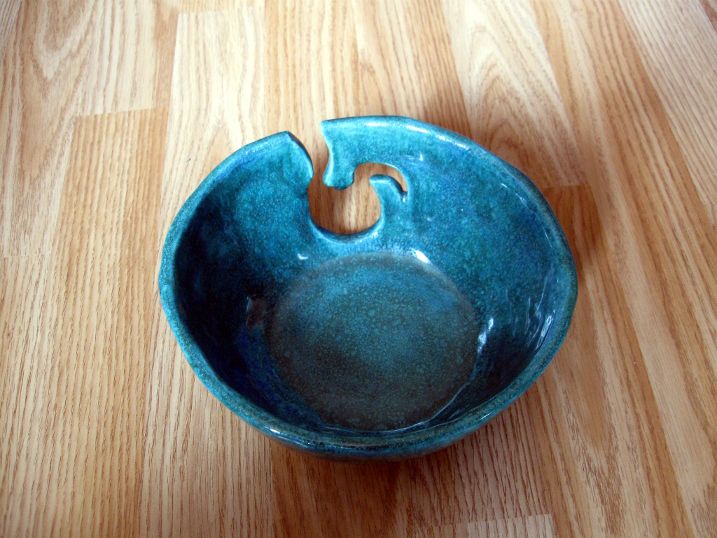 Yeah, it's teal. So sue me. (The glaze is a not-opaque blue-y green plus a thin layer of blue glaze, over top of a turquoise slip. It was kind of an experiment, but I love the colours that came through.)
And it works! I've been using it with my current project, as shown above -
the Cria Cardigan
- and it has kept my yarn contained nicely while looking awesome on my coffee table.
I'll be back with more soon: a knitted FO, plus an Outfit-Along update.