Happy New Year, blogosphere! Hogmanay celebrations in Edinburgh are A Thing - a 3 day festival to bring in the new year. We weren't in town for it last year, but decided to take in some of the free stuff this time around. Things kicked off on Dec 30th with a torchlight procession through town, followed by some fireworks and burning stuff. (They do like their fireworks here).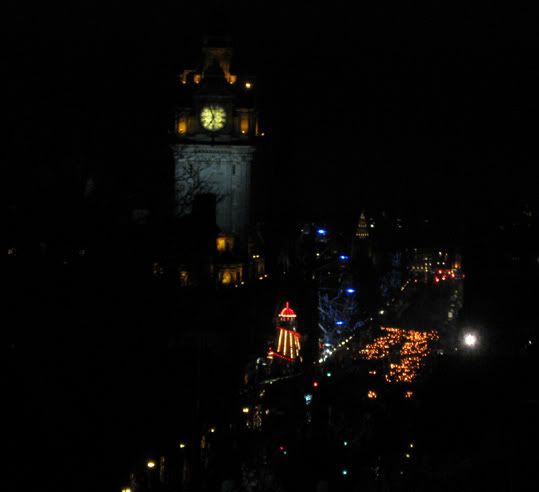 See all the twinkly twinkly lights? Apparently there were 6500 people with torches this year. And nobody got set on fire! Amazing. (At least, not that I heard about...) Led by some dudes dressed like vikings, plus several pipe bands, they processed through town up Calton Hill.
Then there were fireworks and pyrotechnics set up in the monuments on Calton Hill. Okay, so this picture isn't very clear, but you get the idea.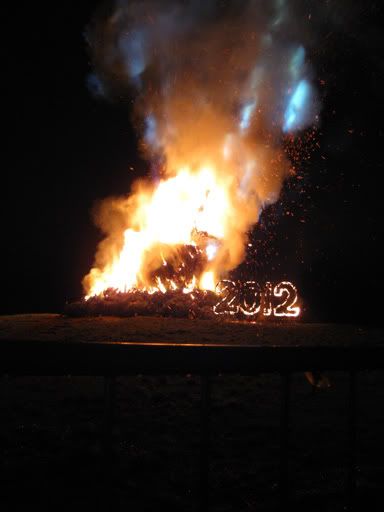 And a bonfire - it started out as a straw sculpture of some dancing figures.
I think I get a kick out of all this celebratory fire because none of it would be allowed where I grew up. Not only are you not allowed to drink in public places there, but thousands of people carrying open flames through the streets? Haha - not likely.
I took some shaky video of bits of it, and have inexpertly spliced them together to make a highlight reel here:
Bring on 2012!