We aren't traveling to see family for the holidays this year, so this will be our first Christmas at home in our flat together. That meant coming up with some kind of Christmas tree.
Lucky for us, we both like to make things. My dude came up with a crazy scheme to build a Christmas tree out of dowels and garden wire - and it worked! He did most of it, but I helped. When the modern, minimalist tree was finished, it sat bare for a few days while we thought about how to decorate it. The branches are fairly flexible, and the whole thing is rather small. Then, another brilliant idea from the dude...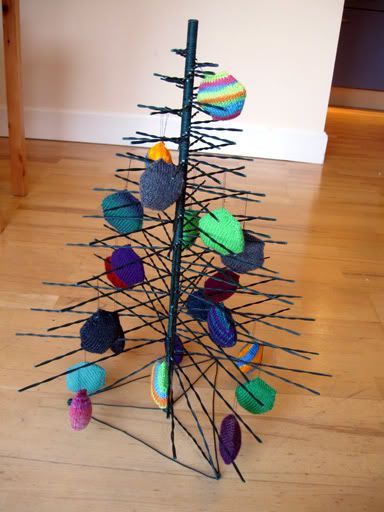 Hexipuffs as ornaments! They are very light and small, plus I have them in a crazy range of colours. I put some thread through a corner of each one, knotted it, and then attempted to hide the knot back inside the puffs. When it comes time to put the blanket together, I can always cut the thread and remove it.
I'm sure this isn't an original idea - on ravelry I can find people using hexipuffs for all kinds of things, including
ornaments
and a
hexitree
. However, my dear FH doesn't spend all his free time browsing ravelry, so the idea coming from him is somewhat original.