Inspired by the spate of circular/infinity scarf/cowls appearing lately, I made up my own using some wavy wavy cables. I do love cables.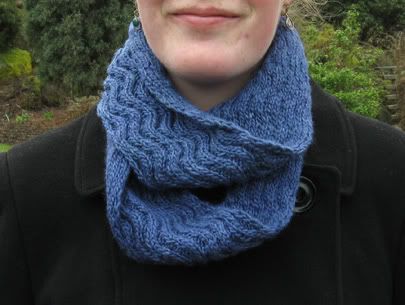 Ravelry project page
Manos Del Uruguay Silk Blend is so soft and drapey and wonderful. I love knitting with it, and I think it is perfect for cowl and scarves. This cowl took one 100 g skein in the Danube colourway.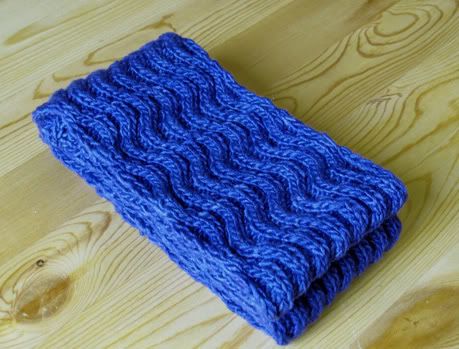 Not colour accurate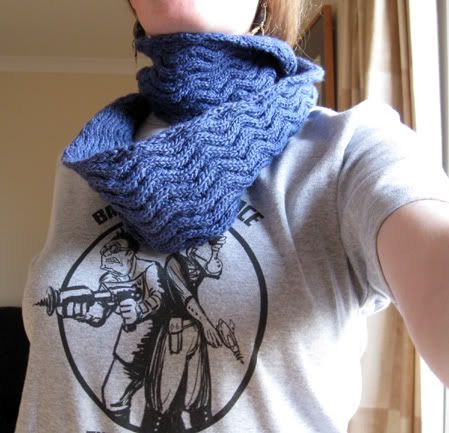 T-shirt from The Thrilling Adventures of Lovelace and Babbage. Let's fight crime with maths!
I wrote up my notes for this project, thinking I'd try to publish it as a free pattern, but I've been hit by some knitting stagefright. What if it isn't original enough? I'm not entirely happy with how it hangs, maybe it's the wrong length, it's not perfect. I'm coming into conflict with my own unperfectionism. Help! Haha. Just let me get over myself and it will be fine.
Anyway, it's too warm to wear it today - 12 degrees! In February! I can't believe it. Yesterday was my birthday, and at a high of 14 degrees Celsius I think it was the warmest birthday I've ever had. Wow.
More FOs at Tami's Amis