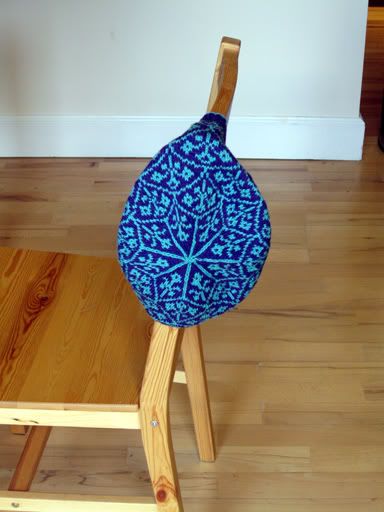 Pattern:
Selbu Modern
by Kate Gagnon Osbourne
Yarn:
The yarn I used was some old, discontinued fingering weight that claims to be Schaffhouser Wolle Mona - but yarn by that name in the ravelry database is clearly different yarn. I found it in Lewiscraft while they were going out of business, and excited about the cheapness bought skeins of light pink, magenta/fuschia, and green. I dyed some of the obnoxious magenta with Wiltons Royal Blue icing dye, and it turned a lovely
Western purple
.
Notes:
I used 2.75 mm needles throughout, not bothering with smaller needles for the ribbing. This turned out bigger and slouchier than I thought it would; notes from many projects on ravelry suggested the hat usually runs small. However, I didn't swatch, so I only have myself to blame.
Knitting this took me ages. AGES. I started in September and only finished this week. There are many reasons for this, but the biggest is that I didn't work on it very often because I never printed out the pattern. Only working on the project while near the computer is, it turns out, a terrible idea for me because the internet is so distracting. Haha. Lesson learned. I'm also pretty slow at colourwork and it wears out my hands if I do too much at once. Case in point: when I got to the decreases and saw the end in sight, I worked furiously, and couldn't knit for days afterwards. Bad idea: will not push myself like this again.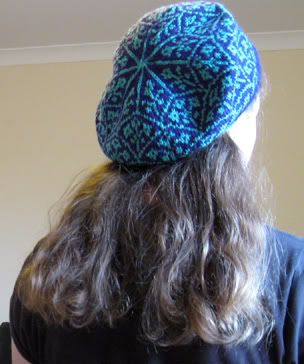 I like the result, but I have mixed feelings about wearing it. The pattern is so beautiful, and I've admired it for a long time, but when I put it on I immediately felt ridiculous. My desire to knit the pattern quashed any inkling I might have had that hats of this style don't really suit me. The crease from blocking it on a plate makes it stick out in a weird way on my head, and I felt like this hat could be high maintenance. If I have to stand in front of a mirror and mess with it before leaving the house, it might not be worth wearing.
Then I got stubborn and decided to wear the hat anyway, even if I look stupid, and after wearing it for a few days I feel much better about it. Still, I might steer clear of slouchy hats for a while.
Check out more Friday FOs at Tami's Amis!