I've run out of white sock yarn to dye at the moment, but I still had some Easter Egg dye mixed in the fridge, so I dyed some gray sock yarn.
The yarn,
Fortissima Socka mit Bambou
is 25% bamboo, which doesn't absorb food dyes. I knew this going in, and was interested in seeing how the yarn would absorb the dye. That said, I definitely didn't use enough dye, although I supplemented the green/blue Easter egg stuff with some Wiltons Royal Blue and Leaf Green.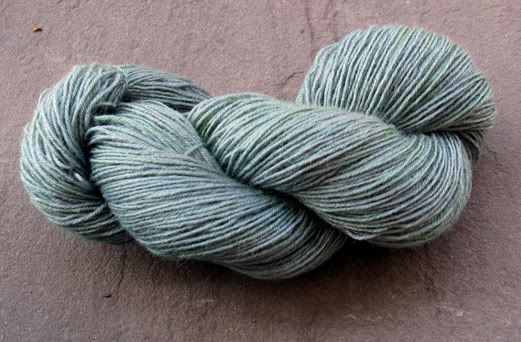 The result is a light sage-greeny-blue. Very light. Possibly too light. I contemplated adding more dye or overdyeing it again, but it's growing on me. It's definitely more interesting than plain old gray, if you look at it closely. (Not that I have anything against gray; I just wanted to dye more yarn!)
I dumped the leaf green in when the dye bath was already hot, and I didn't stir, so it stuck in uneven places - this was kind of intentional. You may be able to see some light green traces.
I think the blue took unevenly as well, in some places.
I'm curious to see how this knits up. Next time, I'll probably use more dye and go for a brighter/deeper colour, but an experiment in subtlety isn't a bad thing.