Pattern:
Ishbel
, by Ysolda Teague
Yarn: DIC Smooshy, in Gothic Rose
Mods: Did stockinette for the small size, but lace for the large size.
So much fun to knit! I took a gamble and didn't use a single lifeline, and I had to fudge the pattern a few times, but nothing too horrendous happened. Towards the end the rows were so long that it dragged a bit, but the lace pattern kept it interesting.
This turned out bigger than I expected. I wanted to use this beautiful yarn efficiently, so I opted for the large lace section, thinking it wouldn't be quite so large. It still works as a scarf, though.
Please excuse the crappy mirror shot. My bathroom is crooked, not my photography ;)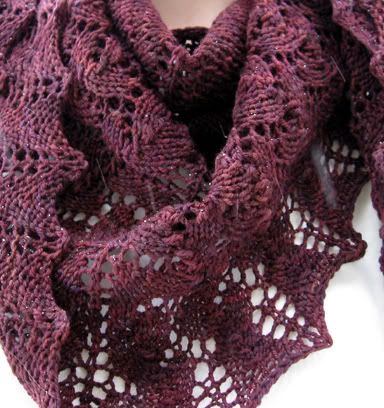 This one shows the colour most accurately, and you can see it was snowing outside this morning when I took the picture!
I've been wearing it all day, and I know it will be very useful. The yarn is quite soft, but still sturdy, so I hope it holds up.
Plus, now I can cross off
#4 - Knit a lace shawl.