A hat just in time for spring.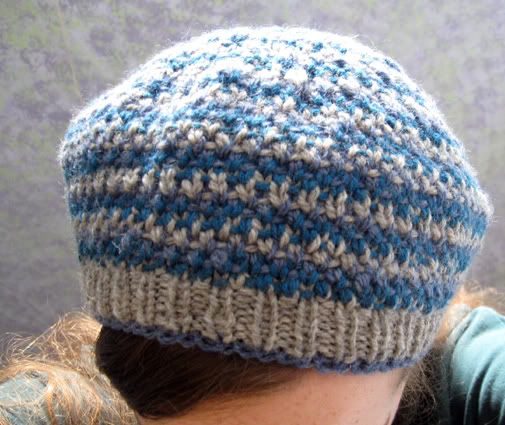 Pattern
:
Wesley
by Kate Gagnon
It turned out a lot smaller than I thought it would, but then again I didn't swatch, used larger needles out of laziness (5.5 mm instead of 5, since I don't own a short enough 5 mm circular), and basically screwed around with the details enough that I'm surprised it looks at all like the original! In truth I followed the instructions, mostly.
Mods
: I attempted to make a hybrid of size one and size two, hoping for something not slouchy, but big enough around to fit my head. I cast on for size two, and intended to do only two repeats of the colour pattern, but when I got to that point it still looked short, so I did another two colours. (2.75 repeats?). I also screwed up the decreases, and basically ended up winging them. It turned out a little lumpy as a result, but blocking mostly helped. I am aware I made some stitch pattern mistakes as well, but I like the random element!
Sun in my basement, la lalala la.
Still not entirely sold on me and berets, but I wore it in public tonight (too warm during the day), and people were encouraging. Anyway, it doesn't matter that I don't know if berets are for me, since I'll totally keep making them. I'm itching to make Selbu Modern, like everyone else in the world. And also Opus Spicatum. (And other ones not from Kelbourne Woolens, but you know. Might as well keep going.)