Whoa, knitting!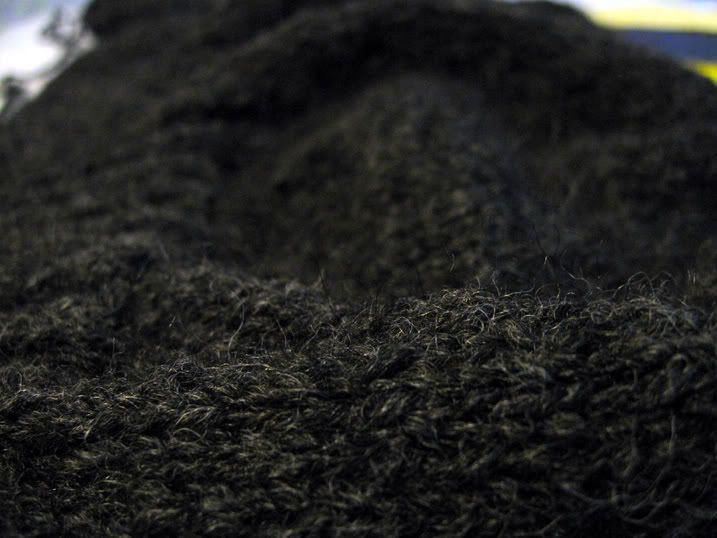 Miles of fuzzy, charcoal-gray stockinette.
Also some 2x2 ribbing.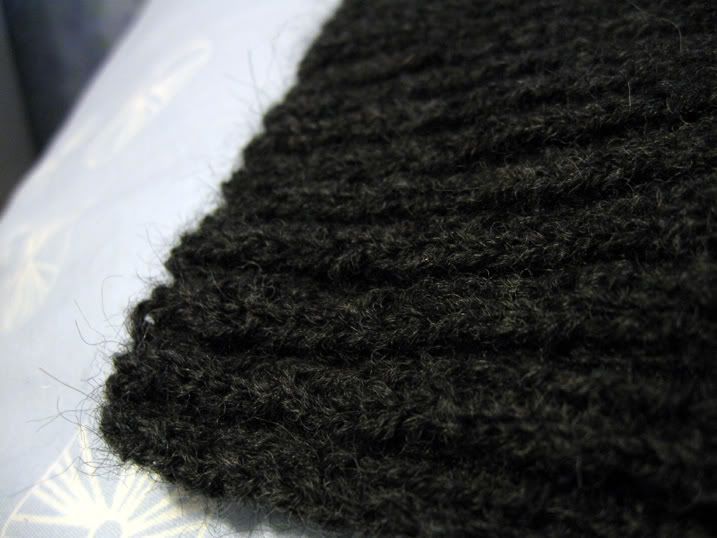 I'm ploughing through
Basic Black
by
Glenna C.
while slowly frogging the Gilmour vest for more yarn. It's going well, and surprisingly quickly. This has been in my queue and near the top of it for possibly as long as I've been on Ravelry, so I'm happy to finally start it. I'm a little apprehensive, since I initially thought about making it with this yarn and decided I didn't have enough. Hopefully my current estimate that I DO have enough is not wrong. Do I bait tragedy with my knitting?
I keep saying I have to stop choosing projects with monotonous stitch patterns, but I think I've realized why I do it. Not just because I am attracted to simple, versatile, classic lines, but also because I have an unspoken (now spoken) aim eventually to replace store-bought knit items in my wardrode with my own knitting. Most of the really useful store-bought knitwear I have is pretty non-descript, to be honest. I don't have much in the way of awesome cablework or whatever. On that note, I need to aim to replace at least some of the simple stuff with more complicated and challenging stuff. But that may not happen any time soon.
I got the winter issue of Interweave knits for Christmas and while I wasn't drawn to anything in particular at first, I now feel the need to make at least three items from it. The
Victoria Yoke pullover
tops the list. Oh look, more stockinette stitch. At least there is some texture involved. Next comes the
Welt and Rib raglan
, a shoe-in to replace a turtle neck sweater I wear and love that may disintegrate within the next year. Then, the
Dainty Pinstripes pullover
. For some reason I really was not keen on this at first glance, but now I like it a lot. Maybe I'll stop liking any of these before I get around to making them; that's a lot of sweaters to try to fit in this winter, and as is apparent I loathe spending money. Ha! We'll see.